6 weeks out for Man City star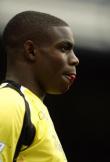 Man City face the worrying prospect of being without

Micah Richards

for up to six weeks after he underwent surgery on a knee cartilage problem. There were initial fears that Richards could miss the rest of the Premiership season.
"That's really bad news of course," Eriksson told Sky Sports News. "He was operated on yesterday in London and I spoke to the medical people before and after the operation and they said before it would be six weeks and they confirmed after the operation he will be out around six weeks.

"But I heard from our medical people he is a good and quick healer so just to hope he is back before six weeks but we have to wait and see.

"Bad news of course but unfortunately it happens."