How Will Rafa Benitez Do in the Chinese Super League?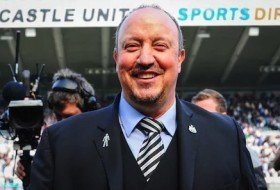 Rafa Benitez

has had a remarkable career, which started with a firm managerial grounding at Spanish super club Real Madrid, where he was an assistant manager, amongst other coaching roles. The Spaniard would go on to manage Real Valladolid, Osasuna, Extremadura, who he led to promotion, and Valencia, who would win La Liga twice under his leadership. Outside of Spain, he's led Liverpool to glory in the UEFA Champions League; Chelsea to UEFA Europa League glory; won the Italian Super Cup and Coppa Italia with Napoli; and lifted the Italian Super Cup and the FIFA World Club Cup with Inter Milan.
After a spell back at Real Madrid and highs and lows with Newcastle, Benitez has moved on recently to manage Dalian Yifang in the Chinese Super League. How will he get on? By the looks of things, he's started as he means to go on.

Beginning with a win

Benitez's first match in charge has seen his players reward his move to the club with a 3–1 victory over Henan Jianye. Two goals from Emmanuel Boateng and a penalty from Yannick Carrasco created a deficit that left their opponents playing catch up for the rest of the game. 

The struggling team now stand in 10th place in the 16-team league. It's a win that's enabled the team to open a three-point gap over Henan. More importantly, Dalian Yifang have now gone twelve points clear of the two relegation places. Beijing Renhe and Tianjin Tianh occupy those two unpleasant spots.

His strategy is unclear at this point. Benitez has commented that it's not realistic to make changes so soon and that his role is to instil ideas into the players slowly. That being said, he has made his first signing as the new boss. The Venezuelan striker Salomón Rondón, who was on loan to Newcastle last season and appeared 33 times for the club, has teamed back up with Benitez. Neither club has disclosed the amount of the signing. 

Will he stay?

Although former Sunderland manager Steve Bruce has picked up at Newcastle where Benitez has left off, the Spaniard has not ruled out a return to the club. Admittedly, he'd had a disappointing season, but the Magpies' fans supported him even when things were going poorly on the pitch. Still…Benitez may have a job on his hands because Bruce is determined to prove the doubters in his ability wrong.

If you're thinking of betting on how Benitez's season will go, keep your eye out for acca tips as well as keeping in mind the manager's impressive record. He's gotten off his management journey in the Chinese Super League to the best possible start and has done so with a convincing win. One thing to consider when betting will be how Steve Bruce gets on at Newcastle United and whether Benitez looks set for a return. With lessons learned at Newcastle and the future looking bright at Dalian Yifang, whether he stays in China or returns to Tyneside, he'll turn around the team's fortunes for the better.