Spurs target De Paul explains reasons for rejecting move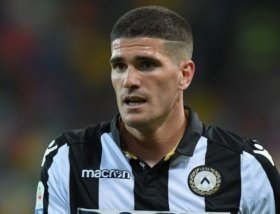 Tottenham target Rodrigo De Paul had been linked with a move to the Premier League side for most of the summer, but the Argentinian winger decided to stay put with Serie A side Udinese and has since gone on to represent his country. It had been expected De Paul would make a 15 million euro transfer move, and the player has explained the reasons for his decision.


Mauricio Pochettino had hoped to lure De Paul to North London after tabling a series of transfer offers, but a deal could not be agreed with the Udine side.

De Paul explained to reporters: "I am more relaxed now that the transfer window has closed.

"Udinese really wanted me to stay, rejecting all the offers that came in. I am happy to remain with a club that wanted me to stay at all costs.

"Thanks to Udinese, I am here wearing the jersey of my national team."

It is understood that both Fiorentina and AC Milan tabled bids for De Paul in the summer transfer window, but both approaches were rejected.