Tottenham legend urges club to sign Moroccan international starlet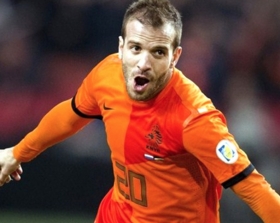 Former Tottenham player and club legend

Rafael van der Vaart

has urged the Spurs' club board to make a transfer move to sign

Hakim Ziyech

from Ajax Amsterdam at the next available opportunity. The attacking midfielder, who helped Ajax to the Champions League semi-final just last season, is seen as one of Europe's brightest prospects and several top Premier League teams have been linked with a move for the young Dutch starlet.
The 26-year-old has burst on to the scene in the Eredivisie in recent years and many top clubs have started to take notice. It was just last year that several top Ajax talents departed the club, but somehow the Amsterdam outfit managed to keep hold of Ziyech, who remains one of their best attacking players. Tottenham have so far this year been struggling in front of goal and have had a disappointing start to the season, leading to club manager Mauricio Pochettino to consider a January transfer swoop for a top player. In addition, Spurs may be forced to sell Danish international Christian Eriksen to one of their rivals, with Manchester United and Paris St Germain all amongst potential suitors for the creative playmaker. Fans can use the Unibet promo code 2019 to have a bet on where Eriksen may end up for his next club.

Van Der Vaart enjoyed a short spell with the White Hart Lane outfit and during his time at the club became a popular player with the club's support.

The Dutchman is also knowledgable in all areas of upcoming talent in his homeland and recommended Ziyech to Spurs' board just last week.

"I really hope he goes to Tottenham Hotspur, I sent a message to Levy, I said: 'Get Ziyech after this season'," van der Vaart told the Dutch media.

"I am convinced that he becomes a sensation in London, and I also wish him that. I hope Spurs takes him and we will see."

Ziyech's price tag of a reported 50 million euros could scare off Tottenham though, as the club have a limited transfer budget having spent big on a few players last summer.

It is understood that Spurs will only have 25 million euros to spend, so will need to sell Eriksen in order to fund a deal for Ziyech.

Ziyech has appeared for Morocco's international side and is amongst the best players for his national team.

Van Der Vaart appeared more than 100 times for his country of the Netherlands and played for Tottenham between 2010 and 2012.