Manchester United and Juventus lead the queue for Erling Haaland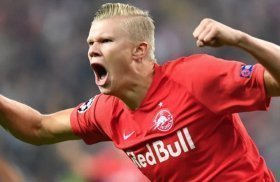 Manchester United and Juventus are frontrunners for

Erling Haaland

. Both teams face fierce competition from other top European teams such as Barcelona, Real Madrid, Atletico Madrid, Bayern Munich, Manchester City, Arsenal and Chelsea.


Haaland draws attention after scoring 22 goals in 15 matches for the Austrian club, Red Bull Salzburg. Besides, many European powerhouses cannot wait any longer to sign the young Norwegian after his hattrick in the Champions League against Genk.

The Red Devils has been familiar with Haaland's scoring prowess for a long time since Ole Gunnar Solskjaer and Haaland had worked together for 2 seasons at Norwegian club, Molde.

Actually, Juventus sporting director Fabio Paratici was interested in signing the talented player for only £5.1 million in the summer of 2018. However, Haaland was reluctant to move to a club where he would rarely be played.

Since joining the RB Salzburg in January 2018 for £7.8 million, Haaland's value has skyrocketed to £34.5 million. Not wanting to waste this opportunity, RB Salzburg expect a £52 million bid for Haaland in the next summer.