Five Perfect Hat-Tricks in Football History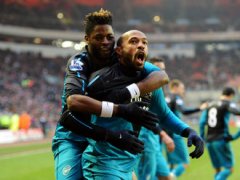 There is nothing quite like a perfect hat-trick. Especially a hattrick in which the scoring player hits left and right-footed shots alongside a header.
Back in October 2019, Christian Pulisic notably added his name to the list of players privileged enough to register a 'perfect' hat-trick, additionally becoming the first American to do so in the Premier League. Here are some others that we remember like yesterday!

Mark Robins

Oldham 2-3 Norwich – November 1992

Norwich topped the Premier League table on Christmas Day of 1992, having initially reached the summit the previous month via Mark Robins' ground-breaking treble.

The first half can only be described as utter bedlam, with Ian Culverhouse crossing to an unmarked Robins inside the area after 14 minutes. Robins made no mistake with a bullet header at the far post, but Oldham drew level just over ten minutes later, through a strike from veteran poacher Graeme Sharp.

Norwich restored their lead inside a mere 120 seconds, with Ruel Fox's pace beating the offside trap and enabling him to lay on Robins, who swept home easily in a 1-on-1 with the keeper. Ian Marshall got Oldham's second equaliser just before the break, and the second half proved to be a war of attrition.

But Robins was to make history with a last-minute winner, with a loose ball falling his way on the edge of the box. Despite facing an acute angle, Robins struck low with his left foot, across the keeper and into the opposite corner.

Contrary to pre-season expectations of doom for the East Anglian club, Norwich went on to finish third, and enjoy some unexpected time in the spotlight by dint of their amazing UEFA Cup run the following season.

Andrew Cole

Manchester United 9-0 Ipswich – March 1995

This hat-trick was special in that it re-established United's true potential for destruction, after a dark and dismal two-month period following Eric Cantona's ban for kicking a Crystal Palace supporter.

United were already 1-0 up when Giggs raced clear and centred for £7m man Cole to prod home his first of the afternoon with his right boot. Cole got the next goal (again with his right) latching onto an overhead kick from Mark Hughes that clipped the bar.

Cole completed his hat-trick after half-time by heading home a Dennis Irwin cross at Craig Forrest's far post. Goals five and six both went to Hughes, and Cole then made it a truly 'perfect' day, following up on Brian McLair's parried shot with his left boot.

Paul Ince made it eight with a quickly-taken (but legitimate) direct free kick at an unguarded goal, and Cole had time for one more, rounding off the rout with a half volley on the end of a corner.

Thierry Henry

Arsenal 3-1 West Ham – January 2003

Arsenal fans, especially those that see how far Arsenal have fallen in outright betting markets after learning about spread betting basics, endlessly yearn for the return of days like these. There is no doubt that Henry was at his absolute best in 2003, and we may truly never see the likes of 'prime Henry' again.

Henry's hat-trick began with a penalty conversion, enabled by the red-carded Steve Lomas' foul on Robert Pires inside the area after just 13 minutes. For Henry personally, taking that penalty demanded superlative courage, with the Frenchman missing three of his four prior spot kicks. He made no mistake this time though, sending David James the wrong way via his right boot.

West Ham equalised five minutes before the break, but Arsenal would not be daunted. Twenty minutes from time, Dennis Bergkamp floated a long cross towards the far post, which Henry headed in to restore the Gunners' lead. Henry's third was typical of Arsenal in that era, with Bergkamp sliding the ball through to Pires, who in turn played Henry in on the opposite flank.

Henry timed the left-footed shot to perfection, hitting Pires' ball low beyond James' despairing dive with his first touch. Overall, this performance was clear evidence of Arsenal – and Henry – building up a head of steam in preparation for the upcoming 'invincible' campaign of 2003/04.

Peter Crouch

Liverpool 4-1 Arsenal – March 2007

Rightly or wrongly, popular culture has mostly depicted Peter Crouch as nothing more than a route-one aerial threat, and only his wonder strike for Stoke against Manchester City in 2012 changed that somewhat. For that reason, the positive fallout from this hat-trick was more personal in nature.

By 2007, a Gunners side since shorn of Henry, Pires and Bergkamp was a shadow of its former self. Crouch took just four minutes to open his account against the previous season's Champions League runners up, finishing expertly on the end of Alvaro Arbeloa's cross.

Thirty minutes later, Crouch got his second via a header, this time on the end of a cross from Fabio Aurelio. Defenders Daniel Agger (Liverpool) and William Gallas (Arsenal) got the next goals, before Crouch completed his perfect hat-trick with an impressive turn and finish ten minutes from time.

Didier Drogba

Chelsea 8-0 Wigan – May 2010

With a double from Nicolas Anelka sandwiching a Frank Lampard penalty and a goal from Salomon Kalou, Chelsea were already 4-0 up – and as good as champions – by the time Drogba opened his account on the final day of 2009/10.

Drogba began his reign of terror two minutes after the hour mark, heading home Lampard's cross, before converting a penalty in lieu of Lampard. That goal made Chelsea the first team to hit triple figures in the 'goals for' column of a 38-game Premier League table.

Drogba completed the hat-trick just 17 minutes after his first goal, sealing the golden boot in addition to everything else.

Obviously, the hat-trick itself did nothing to change the destination of the league title. However, it certainly gave Chelsea a great deal of momentum ahead of their FA Cup final win against Portsmouth, which completed a historic double for the club.