Gerrard: we're better than Chelsea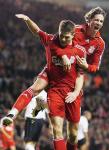 Steven Gerrard

believes that Liverpool are superior to Chelsea and will win the Champions League. Gerrard believes that the Reds were unlucky in the Anfield first-leg last week.
"We really feel that we are as good as Chelsea, if not better than them" Gerrard said in the Sunday Mirror.

"We have certainly been the better team when we have played them this season.

"We were the better team at Anfield and again in the Champions League only for both games to end in draws.

"Now we have got to back up a good performance with the right result.

"We were gutted at the end of the first game because we were on top for most of the time and Chelsea scored their equaliser without really creating anything.

"It was a real killer for us, but these things happen in football and it's now all about how we react and how we recover."