Riise may leave Liverpool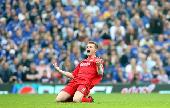 John Arne Riise

has admitted that he may leave Liverpool in the summer, and there is plenty of substance to the rumours that both Newcastle and Aston Villa are interested in the Norweigan defender.
"A club change is not impossible," he added.

"I have said that I want to stay where I am, but there have been many rumours in the newspapers about many big clubs.

"It's fantastic to be linked with such clubs. At the same time, I am playing in a position which many clubs are trying to fill.

"I am uncertain. If I don't hear anything before the summer, I will have to consider my situation."