Atletico for Sinama Pongolle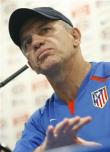 Atletico Madrid have emerged as targets for Florent Sinama Pongolle, the talented young French striker who is set to leave his club, Recreativo, this summer in a £3 million deal.
Atletico Madrid are looking for more players to help bolster their attack as they prepare for Champions League football next season.

Sinama-Pongolle actually impressed this year for Recreativo, and now will be likely to join Atletico for a cut price.

Sinama-Pongolle has the experience of playing in the Champions League with Liverpool.