Inter Annouce Mourinho Arrival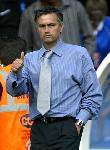 Italian and European giants Inter Milan have announced the arrival of

Jose Mourinho

as their coach for next season.
The announcement only confirms what was already decided last week when Inter Milan president Massimo Moratti decided to sack Roberto Mancini. Mancini had led Inte to two successive on-pitch Italian Serie A triumph.

Jose Mourinho was heavily tipped to take over as the new coach of Inter and now he has ultimately done so.

A statement on the club's official website read:

"Jose Mourinho is now officially the new Inter coach.

"Mourinho will be assisted by Rui Farias, Silvino and Andrei Villas Boas for his Nerazzurri project.

"Mourinho's number two will be Giuseppe Baresi, who was a youth team coach.

"The new coach will be unveiled on Tuesday morning at 11:30 am at the Appiano Gentile training complex.

"The Portuguese coach has signed a three year contract.

"We would like to thank Roberto Mancini and all his staff for the success he achieved in four seasons as the coach.

"FC Internazionale would like to welcome Jose Mourinho and his staff and we wish them well."

Mourinho has signed a three-year contract with the Nerazzurri worth 9 million euros per season.