Thaksin welcomes Hughes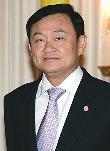 Manchester City owner,

Thaksin Shinawatra

stated that new City boss

Mark Hughes

is an "outstanding manager". He also said that sacking Sven was "ruthless".
Hughes signed for Manchester City yesterday night after a long week of negotiations. Blackburn was reluctant to allow him open talks with City.

Thaksin Shinawatra has commented on Hughes and newly appointed executive chairman Gary Cook.

"Together they will make a great team. They will both prove to be excellent acquisitions, I'm sure."

He said that it was Cook who pinpointed Hughes to be the new City boss.

"Mark was always the first choice of our new executive chairman, Garry Cook.

"He's an outstanding manager who has achieved many things with Blackburn.

Thaksin said that Manchester City are set to enter a new era and he believes the supporters will share the same passion that he has.

The ex-City boss, Sven-Goran Eriksson was a fan favourite and Thaksin compared his act of sacking him as "ruthless" though for the good of the club.

"These are exciting times for Manchester City and I hope the supporters can understand that I share their goals."

"That sometimes means making ruthless decisions. Now we can go forward to a new era, with a new management structure and great hope and ambition."