Southgate to hit the market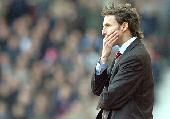 Middlesbrough boss

Gareth Southgate

is desperate to not make the same mistakes he made last year and is looking to make some signings earlier on in the transfer window.
He told the official club website: "The basis of the squad we have is young, there is a platform to build on and everyone is keen to do that.

"There were a lot of changes last season and the timing of some of them was not helpful, such as Yakubu leaving. Once the season has started it becomes very difficult to change certain things.

"It's difficult finding people to come in at that stage and difficult to adjust them to their surroundings if you do get someone. You may as well throw your pre-season out of the window.

"I think we were a couple light in terms of numbers last season. We were incredibly unlucky to get injuries to all of our central defenders at once and to all our strikers at once, that's unbelievably rare, but we have to be prepared for lots of things when the season starts."