Ronaldinho's England link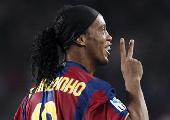 Brazilian superstar Ronaldinho has admitted that he would love to play int he Premiership; and that he is aware of the interest from duo Man City and Chelsea. It is understood Ronaldinho will definitely be leaving Barcelona this summer.
Ronaldinho told Globo TV: "Every player would love to play in such a competitive championship like the English league.

"I'm happy because almost all the teams want me to play for them."

Meanwhile, the Brazilian ace has admitted that last season was a difficult one at the Camp Nou, with the Catalan giants failing to challenge for any silverware.

He added: "When a lot of problems come together, the whole team is not well and players find it difficult to shine.

"I'm as upset as my team-mates for not playing well. The lack of titles let us down even more.

"Now I have recovered. Everything is perfect and I've started a new stage in my rehabilitation.

"I want to profit from these holidays to return as soon as possible to achieve my dreams of becoming the world's best player and playing in the world's best team."