Schwarzer happy at Fulham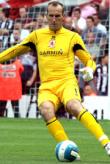 Mark Schwarzer

is looking forward to his next journey in the Premiership, after moving from Middlesbrough to Fulham earlier in the year.
"I suppose I'll be like a new kid at school.

"I'm excited about it and it's something that I really needed to do. I think it's a great opportunity for me and I'm really looking forward to the challenge. I can't wait for pre-season to start."