Sevilla wait on Capel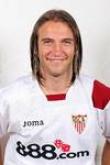 Sevilla coach Manolo Jiménez has admitted he is hoping that he can persuade

Diego Capel

to sign a new contract and stay at the club.
"I have spoken with Diego and everything has been cleared," he started off.

"He is a very level-headed person for someone his age but now he has to fight to overcome theses comments made about him.

"I have not told him whether or not he should sign the new contract. It is a personal decision that he has to make for himself.

"But if he comes to me for advice, then I will tell him that he should sign it because he is one of the best left wingers in the world and we would like to keep him here."