Nedved may get 2 year deal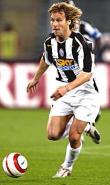 Juventus have revealed that they may be giving

Pavel Nedved

a two year contract. The Czech Republic superstar was expected to be ready to quit the club, but now it has emerged he may be the recipient of a two year deal.
Pavel Nedved has reportedly been given a £90,000 contract offer for the next two years.

Claudio Ranieri remarked: "Do you think this is now a joke? That we're seriously talking about a two-year deal for Pavel ...?"