Hiddink will return to Russia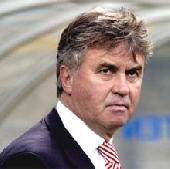 Guus Hiddink

has revealed that his role at Chelsea is only temporary, and that he will be returning to his usual role as the Russia national team coach.
"What happens after May is rather clear, because it's rather difficult to do the two jobs," said Hiddink.

"I have my obligations also in Russia," he added. "It's rather difficult to do that because the Premier League is really challenging.

"We can do it now because we have just one or two games until June with the national team of Russia, that's why we said OK. We can do it now and we can do it full-hearted and fully committed."