Tevez to stay at Man City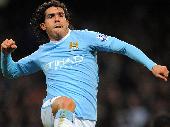 Carlos Tevez

is likely to stay at Man City next year, after his agent admitted that the player is likely to bring his family over to the UK soon. Tevez had been linked with a return to his homeland in Argentina, and a move to former club Boca Juniors.
However, his agent Kia Joorabchian has moved quickly to reject the speculation.

"I don't think speculation about Carlos leaving is fair at the moment," Joorabchian told the Daily Star Sunday. "I don't think money is a consideration. Maybe it's a case of his family coming over to him. That's something he's trying to sort out.

"I'm sure in the next week he will sort the family issue out. Once he does, he will announce it and everyone will be in a better place."