Mulumbu open to WBA exit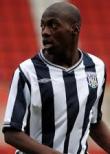 Youssouf Mulumbu

has admitted he would consider a move away from West Brom this summer. The DR Congo international has attracted interest from Everton and Fulham.
West Brom have told rival clubs that Mulumbu will be staying after an excellent season from the midfielder.

However, Mulumbu himself is still open to a move: "Every player has a price, if two clubs agree a fee there is nothing you can do. For me, I am still a West Brom player. Any club who wants me needs to convince them to sell me. I am ambitious and want to play at the top level all the time."

Click here for Mulumbu's Twitter account.