Leo Messi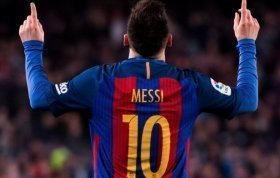 News from around the web

Barcelona coach Setien: What can we say about Leo Messi?

19/06 14:17




News from Eyefootball

Barcelona superstar Lionel Messi will miss three weeks of action after breaking his arm during a win against Sevilla on Saturday at Camp Nou.

Angel Di Maria will leave Paris St Germain and join Barcelona in a deal worth a reported 50 million euros. Di Maria is considered a replacement for Neymar, who transferred for a world record fee to PSG earlier in the summer.

Barcelona are expected to announce that club legend Xavi Hernandez will be leaving Camp Nou after 23 years of service.

Alen Halilovic will still make a move to Barcelona, despite the Catalan side having been banned from taking part in any transfer activity until the summer of 2015.

FC Barcelona v Real Madrid CF Pep Guardiola v Jose Mourinho Messi v Ronaldo
Who would the game belong to?

Frank Rijkaard has claimed that would be possible to play his "big 4" all in the same lineup. Thierry Henry's signing has sent the media into a frenzy regarding the potential transfer of Et'oo. However, Rijkaard has revealed that this strike force could all play at the same time.

29 year old Portuguese attacking midfielder Deco has been linked with AC Milan. Deco could be deemed surplus to requirements at Barcelona with the arrival of Yaya Toure and Thierry Henry, with Leo Messi set to be given a wing/midfield role next season.