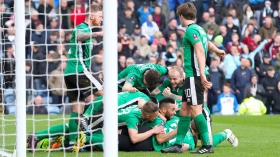 Manchester United and Tottenham Hotspur both beat Championship opposition on Sunday, putting their names in the hat for the quarter final draw, and taking one step closer to lifting the historic trophy come May.
- read news story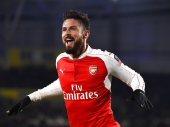 Arsenal striker Olivier Giroud has been again linked with a move to Marseille despite quelling the speculation earlier in the campaign. The France international signed a new two-and-a-half year contract with the Gunners last month.
-
read news story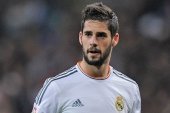 Spanish midfielder Isco has hinted that he could leave Real Madrid this summer in the search for regular first-team opportunities.
-
read news story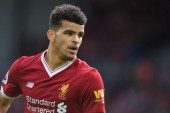 A wantaway Chelsea striker looks set to leave Stamford Bridge this summer, but his next destination is unknown, with a number of clubs interested, including Old Firm giants Celtic and Rangers.
-
read news story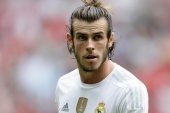 Welsh talisman Gareth Bale made his return to action for Real Madrid on Saturday, and got his name on the scoresheet in the process. 
-
read news story
| | | |
| --- | --- | --- |
| Chelsea | 25 | 60 |
| Man City | 25 | 52 |
| Tottenham | 25 | 50 |
| Arsenal | 25 | 50 |
| Liverpool | 25 | 49 |
| Man Utd | 25 | 48 |
| Everton | 25 | 41 |
| West Brom | 25 | 37 |
| Stoke | 25 | 32 |
| West Ham | 25 | 32 |
| Southampton | 25 | 30 |
| Burnley | 25 | 30 |
| Watford | 25 | 30 |
| Bournemouth | 25 | 26 |
| Swansea | 25 | 24 |
| Middlesbrough | 25 | 22 |
| Leicester | 25 | 21 |
| Hull | 25 | 20 |
| Crystal Palace | 25 | 19 |
| Sunderland | 25 | 19 |
| | | |
| --- | --- | --- |
| Real Madrid | 21 | 52 |
| Barcelona | 23 | 51 |
| Sevilla | 23 | 49 |
| Atl Madrid | 23 | 45 |
| Real Sociedad | 23 | 41 |
| Villarreal | 23 | 39 |
| Eibar | 23 | 35 |
| Ath Bilbao | 23 | 35 |
| Celta Vigo | 22 | 33 |
| Espanyol | 23 | 32 |
| Alavés | 23 | 30 |
| Las Palmas | 22 | 28 |
| Real Betis | 22 | 24 |
| Malaga | 22 | 23 |
| Valencia | 22 | 23 |
| Deportivo La Coruña | 22 | 19 |
| Leganés | 23 | 18 |
| Sporting Gijón | 23 | 16 |
| Granada | 23 | 16 |
| Osasuna | 23 | 10 |
| | | |
| --- | --- | --- |
| Juventus | 25 | 63 |
| Roma | 25 | 56 |
| Napoli | 25 | 54 |
| Inter Milan | 25 | 48 |
| Atalanta | 25 | 48 |
| Lazio | 25 | 47 |
| Milan | 25 | 44 |
| Fiorentina | 25 | 40 |
| Torino | 25 | 35 |
| Sampdoria | 25 | 34 |
| Chievo | 25 | 32 |
| Sassuolo | 25 | 30 |
| Udinese | 25 | 29 |
| Cagliari | 25 | 28 |
| Bologna | 25 | 27 |
| Genoa | 25 | 25 |
| Empoli | 25 | 22 |
| Palermo | 25 | 14 |
| Crotone | 25 | 13 |
| Pescara | 25 | 12 |
| | | |
| --- | --- | --- |
| Bayern Mun | 21 | 50 |
| RB Leipzig | 21 | 45 |
| Bor Dortmd | 21 | 37 |
| TSG Hoffenheim | 21 | 37 |
| Eintracht Frankfurt | 21 | 35 |
| Hertha BSC | 21 | 34 |
| 1. FC Köln | 21 | 33 |
| Bayer Levkn | 21 | 30 |
| SC Freiburg | 21 | 30 |
| Schalke | 21 | 26 |
| B Gladbach | 21 | 26 |
| Mainz 05 | 21 | 25 |
| FC Augsburg | 21 | 24 |
| VfL Wolfsburg | 21 | 22 |
| Hamburger SV | 21 | 20 |
| Werder Bremen | 21 | 19 |
| FC Ingolstadt | 21 | 18 |
| Darmstadt 98 | 21 | 12 |
| | | |
| --- | --- | --- |
| Monaco | 26 | 59 |
| Paris St G | 26 | 56 |
| Nice | 26 | 56 |
| Lyon | 25 | 43 |
| Saint-Étienne | 26 | 39 |
| Marseille | 26 | 39 |
| Bordeaux | 26 | 39 |
| Toulouse | 26 | 34 |
| Guingamp | 26 | 34 |
| Rennes | 26 | 33 |
| Montpellier | 26 | 32 |
| Angers | 26 | 30 |
| Nantes | 25 | 30 |
| Lille | 26 | 29 |
| Metz | 25 | 28 |
| Dijon | 26 | 27 |
| Nancy | 25 | 27 |
| Caen | 25 | 25 |
| Bastia | 25 | 23 |
| Lorient | 26 | 22 |