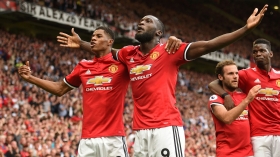 Manchester United will look to build on their impressive 4-0 victory on the opening weekend when they travel to Wales to take on Swansea City, who are preparing for the possibility of another relegation threatened season.
- read news story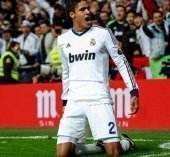 After failing in their pursuit of Gareth Bale, Jose Mourinho has altered his transfer plans and is now rushing to complete a deal for Bale's teammate Raphael Varane.
-
read news story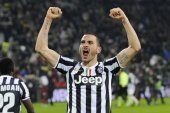 Beppe Marotta has been on record to defend his club Juventus after insisting that the sale of Leonardo Bonucci was a result of mutual decisions made between player and club.
-
read news story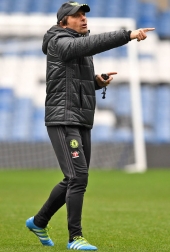 Chelsea dominated in the Premier League last season, but there have been several signs at this early point in the new campaign that this year is not going to be as straight forward for the champions. Defeat on the opening day added to Antonio Conte's frustrations at the club's transfer activity, but the Italian manager has now been given the green light to sign an Inter Milan winger. 
-
read news story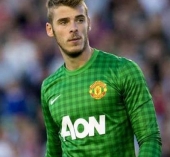 David de Gea has been linked with a move from Manchester United to Real Madrid for a number of years now, with new rumours about a move for the Spanish goalkeeper appearing regularly. Whilst de Gea looks to be staying put at Old Trafford for this season, reports today suggest that The Red Devils will allow their goalkeeper to leave next summer on one condition.
-
read news story
| Team | P | PTS |
| --- | --- | --- |
| Manchester United | 2 | 6 |
| West Bromwich Albion | 2 | 6 |
| Watford | 2 | 4 |
| Liverpool | 2 | 4 |
| Southampton | 2 | 4 |
| Huddersfield Town | 1 | 3 |
| Manchester City | 1 | 3 |
| Tottenham Hotspur | 1 | 3 |
| Leicester City | 2 | 3 |
| Everton | 1 | 3 |
| Arsenal | 2 | 3 |
| Burnley | 2 | 3 |
| Stoke City | 2 | 3 |
| Swansea City | 2 | 1 |
| Chelsea | 1 | 0 |
| Newcastle United | 1 | 0 |
| Bournemouth | 2 | 0 |
| Brighton and Hove Albion | 2 | 0 |
| Crystal Palace | 2 | 0 |
| West Ham United | 2 | 0 |
| Team | P | PTS |
| --- | --- | --- |
| Real Sociedad | 1 | 3 |
| Leganés | 1 | 3 |
| Valencia CF | 1 | 3 |
| Girona | 1 | 1 |
| Atlético de Madrid | 1 | 1 |
| Sevilla | 1 | 1 |
| Espanyol | 1 | 1 |
| Athletic Club | 0 | 0 |
| Barcelona | 0 | 0 |
| Deportivo de La Coruña | 0 | 0 |
| Eibar | 0 | 0 |
| Getafe | 0 | 0 |
| Levante | 0 | 0 |
| Málaga | 0 | 0 |
| Real Betis | 0 | 0 |
| Real Madrid | 0 | 0 |
| Villarreal | 0 | 0 |
| Celta de Vigo | 1 | 0 |
| Alavés | 1 | 0 |
| Las Palmas | 1 | 0 |
| Team | P | PTS |
| --- | --- | --- |
| Juventus | 1 | 3 |
| Napoli | 1 | 3 |
| Atalanta | 0 | 0 |
| Benevento | 0 | 0 |
| Bologna | 0 | 0 |
| Chievo | 0 | 0 |
| Crotone | 0 | 0 |
| Fiorentina | 0 | 0 |
| Genoa | 0 | 0 |
| Internazionale | 0 | 0 |
| Lazio | 0 | 0 |
| Milan | 0 | 0 |
| Roma | 0 | 0 |
| SPAL | 0 | 0 |
| Sampdoria | 0 | 0 |
| Sassuolo | 0 | 0 |
| Torino | 0 | 0 |
| Udinese | 0 | 0 |
| Verona | 1 | 0 |
| Cagliari | 1 | 0 |
| Team | P | PTS |
| --- | --- | --- |
| Borussia Dortmund | 1 | 3 |
| FC Bayern München | 1 | 3 |
| FC Schalke 04 | 1 | 3 |
| Hertha BSC | 1 | 3 |
| TSG 1899 Hoffenheim | 1 | 3 |
| Hamburger SV | 1 | 3 |
| Hannover 96 | 1 | 3 |
| Borussia Mönchengladbach | 0 | 0 |
| 1. FC Köln | 0 | 0 |
| Eintracht Frankfurt | 0 | 0 |
| Sport-Club Freiburg | 0 | 0 |
| SV Werder Bremen | 1 | 0 |
| 1. FSV Mainz 05 | 1 | 0 |
| FC Augsburg | 1 | 0 |
| Bayer 04 Leverkusen | 1 | 0 |
| RB Leipzig | 1 | 0 |
| VfB Stuttgart | 1 | 0 |
| VfL Wolfsburg | 1 | 0 |
| Team | P | PTS |
| --- | --- | --- |
| Monaco | 3 | 9 |
| St Etienne | 3 | 9 |
| Lyon | 3 | 7 |
| Paris Saint-Germain | 2 | 6 |
| Marseille | 2 | 6 |
| Bordeaux | 3 | 5 |
| Angers | 2 | 4 |
| Troyes | 3 | 4 |
| Montpellier | 3 | 4 |
| Strasbourg | 3 | 4 |
| Toulouse | 2 | 3 |
| Nice | 3 | 3 |
| Lille | 2 | 3 |
| Guingamp | 3 | 3 |
| Nantes | 3 | 3 |
| Rennes | 3 | 2 |
| Dijon | 3 | 1 |
| Caen | 2 | 0 |
| Metz | 3 | 0 |
| Amiens | 3 | 0 |