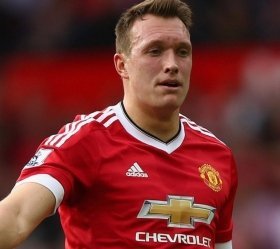 Manchester United manager Jose Mourinho has updated on the fitness of Marcos Rojo and Phil Jones prior to Wednesday night's Premier League clash versus Bournemouth.
- read news story
Breaking Transfer Stories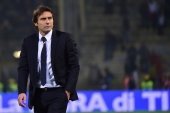 Chelsea manager Antonio Conte has insisted that he won't tell a 'good lie' on the Blues' chances of retaining the Premier League title. The Italian head coach has stood by the stance that his side are out of the title race with Manchester City maintaining their winning streak.
-
read news story
Manchester United midfielder Paul Pogba has admitted that he had the option to join Real Madrid prior to sealing his return to Old Trafford from Juventus.
-
read news story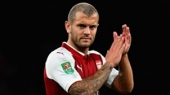 Arsenal will look to end their recent winless streak in the Premier League when they take on West Ham United in Wednesday's London derby.
-
read news story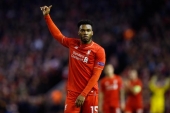 Liverpool striker Daniel Sturridge has emerged as a potential winter target for Valencia, who have made a strong start to their La Liga season.
-
read news story
| Team | P | PTS |
| --- | --- | --- |
| Manchester City | 12 | 34 |
| Manchester United | 12 | 26 |
| Chelsea | 12 | 25 |
| Tottenham Hotspur | 12 | 23 |
| Liverpool | 12 | 22 |
| Arsenal | 12 | 22 |
| Burnley | 12 | 22 |
| Watford | 12 | 18 |
| Brighton and Hove Albion | 12 | 16 |
| Huddersfield Town | 12 | 15 |
| Newcastle United | 12 | 14 |
| Leicester City | 12 | 13 |
| Bournemouth | 12 | 13 |
| Southampton | 12 | 13 |
| Stoke City | 12 | 13 |
| Everton | 12 | 12 |
| West Bromwich Albion | 12 | 10 |
| West Ham United | 12 | 9 |
| Swansea City | 12 | 8 |
| Crystal Palace | 12 | 5 |
| Team | P | PTS |
| --- | --- | --- |
| Barcelona | 12 | 34 |
| Valencia CF | 12 | 30 |
| Real Madrid | 12 | 24 |
| Atlético de Madrid | 12 | 24 |
| Sevilla | 12 | 22 |
| Villarreal | 12 | 21 |
| Real Sociedad | 12 | 18 |
| Leganés | 12 | 17 |
| Real Betis | 12 | 17 |
| Getafe | 12 | 16 |
| Girona | 12 | 16 |
| Levante | 12 | 15 |
| Celta de Vigo | 12 | 14 |
| Espanyol | 12 | 13 |
| Athletic Club | 12 | 12 |
| Deportivo de La Coruña | 12 | 11 |
| Eibar | 12 | 11 |
| Málaga | 12 | 7 |
| Alavés | 12 | 6 |
| Las Palmas | 12 | 6 |
| Team | P | PTS |
| --- | --- | --- |
| Napoli | 13 | 35 |
| Internazionale | 13 | 33 |
| Juventus | 13 | 31 |
| Roma | 12 | 30 |
| Lazio | 12 | 28 |
| Sampdoria | 12 | 26 |
| Milan | 13 | 19 |
| Torino | 13 | 18 |
| Fiorentina | 13 | 17 |
| Bologna | 13 | 17 |
| Chievo | 13 | 17 |
| Atalanta | 13 | 16 |
| Cagliari | 13 | 15 |
| Udinese | 12 | 12 |
| Crotone | 13 | 12 |
| Sassuolo | 13 | 11 |
| SPAL | 13 | 10 |
| Genoa | 13 | 9 |
| Verona | 13 | 6 |
| Benevento | 13 | 0 |
| Team | P | PTS |
| --- | --- | --- |
| FC Bayern München | 12 | 29 |
| FC Schalke 04 | 12 | 23 |
| RB Leipzig | 12 | 23 |
| Borussia Mönchengladbach | 12 | 21 |
| Borussia Dortmund | 12 | 20 |
| TSG 1899 Hoffenheim | 12 | 20 |
| Eintracht Frankfurt | 12 | 19 |
| Hannover 96 | 12 | 18 |
| Bayer 04 Leverkusen | 12 | 17 |
| FC Augsburg | 12 | 16 |
| VfB Stuttgart | 12 | 16 |
| 1. FSV Mainz 05 | 12 | 15 |
| VfL Wolfsburg | 12 | 14 |
| Hertha BSC | 12 | 14 |
| Hamburger SV | 12 | 10 |
| SV Werder Bremen | 12 | 8 |
| Sport-Club Freiburg | 12 | 8 |
| 1. FC Köln | 12 | 2 |
| Team | P | PTS |
| --- | --- | --- |
| Paris Saint-Germain | 13 | 35 |
| Monaco | 13 | 29 |
| Lyon | 13 | 26 |
| Marseille | 13 | 25 |
| Nantes | 13 | 23 |
| Caen | 13 | 19 |
| St Etienne | 13 | 18 |
| Montpellier | 13 | 17 |
| Bordeaux | 13 | 17 |
| Toulouse | 13 | 16 |
| Rennes | 13 | 15 |
| Amiens | 13 | 15 |
| Dijon | 13 | 15 |
| Troyes | 13 | 15 |
| Guingamp | 13 | 15 |
| Angers | 13 | 14 |
| Nice | 13 | 14 |
| Strasbourg | 13 | 13 |
| Lille | 13 | 12 |
| Metz | 13 | 4 |