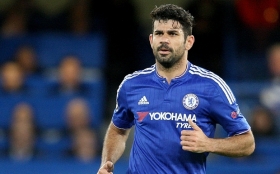 Outgoing Chelsea striker Diego Costa knocked back advances from Everton during the final days of the summer transfer window.
- read news story
Breaking Transfer Stories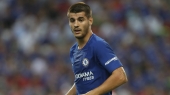 Chelsea will continue their Champions League group stage campaign with a trip to Atletico Madrid on Wednesday night. The game will be a repeat of the 2014 semi-final where Diego Costa was one of the scorers for Atleti in a 3-1 aggregate win. 
-
read news story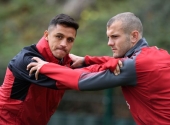 England international Jack Wilshere reportedly snubbed the opportunity to sign a new Arsenal contract in the summer. The 25-year-old is evaluating his options with a view to a free transfer at the end of the season.
-
read news story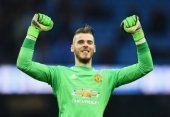 Manchester United are reportedly looking into a deal for goalkeeper David de Gea amid the continuous interest from Real Madrid.
-
read news story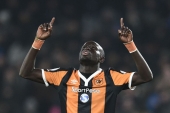 Niasse, who less than a year ago was ousted from the team by Ronald Koeman, may have just saved the Dutchman's job after his brace gave Everton their first win in the Premier League after four games.
-
read news story
| Team | P | PTS |
| --- | --- | --- |
| Manchester City | 6 | 16 |
| Manchester United | 6 | 16 |
| Chelsea | 6 | 13 |
| Tottenham Hotspur | 6 | 11 |
| Liverpool | 6 | 11 |
| Watford | 6 | 11 |
| Huddersfield Town | 6 | 9 |
| Burnley | 6 | 9 |
| Newcastle United | 6 | 9 |
| West Bromwich Albion | 5 | 8 |
| Southampton | 6 | 8 |
| Arsenal | 5 | 7 |
| Brighton and Hove Albion | 6 | 7 |
| Everton | 6 | 7 |
| Swansea City | 6 | 5 |
| Stoke City | 6 | 5 |
| Leicester City | 6 | 4 |
| West Ham United | 6 | 4 |
| Bournemouth | 6 | 3 |
| Crystal Palace | 6 | 0 |
| Team | P | PTS |
| --- | --- | --- |
| Barcelona | 6 | 18 |
| Atlético de Madrid | 6 | 14 |
| Sevilla | 6 | 13 |
| Valencia CF | 6 | 12 |
| Real Madrid | 6 | 11 |
| Leganés | 6 | 10 |
| Levante | 5 | 9 |
| Real Sociedad | 6 | 9 |
| Real Betis | 5 | 9 |
| Getafe | 6 | 8 |
| Athletic Club | 6 | 8 |
| Espanyol | 6 | 8 |
| Celta de Vigo | 6 | 7 |
| Villarreal | 6 | 7 |
| Las Palmas | 6 | 6 |
| Eibar | 6 | 6 |
| Girona | 6 | 5 |
| Deportivo de La Coruña | 6 | 4 |
| Málaga | 6 | 1 |
| Alavés | 6 | 0 |
| Team | P | PTS |
| --- | --- | --- |
| Napoli | 6 | 18 |
| Juventus | 6 | 18 |
| Internazionale | 6 | 16 |
| Lazio | 6 | 13 |
| Roma | 5 | 12 |
| Milan | 6 | 12 |
| Sampdoria | 5 | 11 |
| Torino | 6 | 11 |
| Atalanta | 6 | 8 |
| Chievo | 6 | 8 |
| Bologna | 6 | 8 |
| Fiorentina | 6 | 7 |
| Cagliari | 6 | 6 |
| SPAL | 6 | 4 |
| Sassuolo | 6 | 4 |
| Crotone | 6 | 4 |
| Udinese | 6 | 3 |
| Genoa | 6 | 2 |
| Verona | 6 | 2 |
| Benevento | 6 | 0 |
| Team | P | PTS |
| --- | --- | --- |
| Borussia Dortmund | 6 | 16 |
| TSG 1899 Hoffenheim | 6 | 14 |
| FC Bayern München | 6 | 13 |
| Hannover 96 | 6 | 12 |
| FC Augsburg | 6 | 11 |
| RB Leipzig | 6 | 10 |
| FC Schalke 04 | 6 | 9 |
| Hertha BSC | 6 | 8 |
| Borussia Mönchengladbach | 6 | 8 |
| Bayer 04 Leverkusen | 6 | 7 |
| Eintracht Frankfurt | 6 | 7 |
| VfB Stuttgart | 6 | 7 |
| VfL Wolfsburg | 6 | 6 |
| 1. FSV Mainz 05 | 6 | 6 |
| Hamburger SV | 6 | 6 |
| Sport-Club Freiburg | 6 | 4 |
| SV Werder Bremen | 6 | 3 |
| 1. FC Köln | 6 | 1 |
| Team | P | PTS |
| --- | --- | --- |
| Paris Saint-Germain | 7 | 19 |
| Monaco | 7 | 18 |
| Bordeaux | 7 | 15 |
| St Etienne | 7 | 14 |
| Marseille | 7 | 13 |
| Nantes | 7 | 13 |
| Lyon | 7 | 12 |
| Caen | 7 | 12 |
| Nice | 7 | 10 |
| Guingamp | 7 | 9 |
| Angers | 7 | 8 |
| Montpellier | 7 | 8 |
| Troyes | 7 | 8 |
| Toulouse | 7 | 7 |
| Rennes | 7 | 6 |
| Amiens | 7 | 6 |
| Dijon | 7 | 5 |
| Lille | 7 | 5 |
| Strasbourg | 7 | 4 |
| Metz | 7 | 3 |