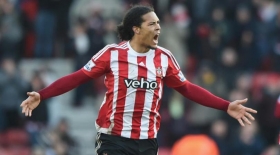 Liverpool have made a new offer for Southampton defender Virgil Van Dijk and hope to seal a deal for the Dutch centre-back in the January transfer window. The former Celtic defender has indicated that he would like to leave St Mary's in favour of a move to a bigger club.
- read news story
Breaking Transfer Stories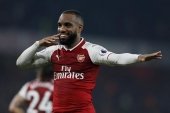 Arsenal will look to return to winning ways in the Premier League when they take on Everton at Goodison Park on Sunday afternoon. The Gunners suffered a surprise 2-1 defeat to Watford last time around, and this sees them placed seventh in the standings.
-
read news story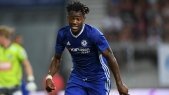 Chelsea manager Antonio Conte has urged Michy Batshuayi to work harder following his stunning performance in the 4-2 win over Watford. The Belgium international notched a brace coming on as a second-half substitute versus the Hornets.
-
read news story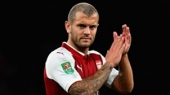 Wilshere put in another fantastic performance in the Europa League against Red Star Belgrade as he led Arsenal to a crucial 1-0 win.
-
read news story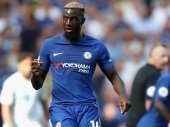 Premier League holders Chelsea have revealed their starting lineup ahead of the Watford clash in an hour's time.
-
read news story
| Team | P | PTS |
| --- | --- | --- |
| Manchester City | 9 | 25 |
| Manchester United | 9 | 20 |
| Tottenham Hotspur | 8 | 17 |
| Chelsea | 9 | 16 |
| Watford | 9 | 15 |
| Newcastle United | 9 | 14 |
| Arsenal | 8 | 13 |
| Liverpool | 8 | 13 |
| Burnley | 9 | 13 |
| Southampton | 9 | 12 |
| Huddersfield Town | 9 | 12 |
| Brighton and Hove Albion | 9 | 11 |
| West Bromwich Albion | 9 | 10 |
| Leicester City | 9 | 9 |
| Swansea City | 9 | 8 |
| Everton | 8 | 8 |
| West Ham United | 9 | 8 |
| Stoke City | 9 | 8 |
| Bournemouth | 9 | 7 |
| Crystal Palace | 9 | 3 |
| Team | P | PTS |
| --- | --- | --- |
| Barcelona | 9 | 25 |
| Valencia CF | 9 | 21 |
| Real Madrid | 8 | 17 |
| Atlético de Madrid | 8 | 16 |
| Real Betis | 9 | 16 |
| Sevilla | 9 | 16 |
| Leganés | 8 | 14 |
| Real Sociedad | 8 | 13 |
| Villarreal | 8 | 13 |
| Celta de Vigo | 8 | 11 |
| Athletic Club | 8 | 11 |
| Levante | 9 | 11 |
| Getafe | 9 | 9 |
| Espanyol | 8 | 9 |
| Deportivo de La Coruña | 8 | 8 |
| Eibar | 8 | 7 |
| Girona | 8 | 6 |
| Las Palmas | 8 | 6 |
| Alavés | 9 | 3 |
| Málaga | 9 | 1 |
| Team | P | PTS |
| --- | --- | --- |
| Napoli | 9 | 25 |
| Internazionale | 9 | 23 |
| Juventus | 8 | 19 |
| Lazio | 8 | 19 |
| Sampdoria | 8 | 17 |
| Roma | 7 | 15 |
| Bologna | 8 | 14 |
| Torino | 8 | 13 |
| Chievo | 8 | 12 |
| Milan | 8 | 12 |
| Fiorentina | 8 | 10 |
| Atalanta | 8 | 9 |
| Udinese | 8 | 6 |
| Cagliari | 8 | 6 |
| Verona | 8 | 6 |
| Crotone | 9 | 6 |
| Genoa | 8 | 5 |
| SPAL | 8 | 5 |
| Sassuolo | 8 | 5 |
| Benevento | 8 | 0 |
| Team | P | PTS |
| --- | --- | --- |
| Borussia Dortmund | 9 | 20 |
| FC Bayern München | 9 | 20 |
| RB Leipzig | 9 | 19 |
| FC Schalke 04 | 9 | 16 |
| TSG 1899 Hoffenheim | 8 | 15 |
| Hannover 96 | 9 | 15 |
| Eintracht Frankfurt | 9 | 14 |
| Borussia Mönchengladbach | 9 | 14 |
| Bayer 04 Leverkusen | 9 | 12 |
| FC Augsburg | 9 | 12 |
| 1. FSV Mainz 05 | 9 | 10 |
| VfB Stuttgart | 9 | 10 |
| Hertha BSC | 8 | 9 |
| VfL Wolfsburg | 8 | 8 |
| Hamburger SV | 9 | 7 |
| Sport-Club Freiburg | 8 | 7 |
| SV Werder Bremen | 8 | 4 |
| 1. FC Köln | 8 | 1 |
| Team | P | PTS |
| --- | --- | --- |
| Paris Saint-Germain | 9 | 25 |
| Monaco | 10 | 22 |
| Nantes | 10 | 20 |
| Marseille | 9 | 17 |
| St Etienne | 10 | 17 |
| Lyon | 9 | 16 |
| Bordeaux | 10 | 16 |
| Montpellier | 10 | 15 |
| Caen | 10 | 15 |
| Toulouse | 10 | 14 |
| Guingamp | 10 | 13 |
| Angers | 10 | 12 |
| Troyes | 9 | 12 |
| Nice | 9 | 10 |
| Rennes | 10 | 9 |
| Amiens | 9 | 9 |
| Dijon | 10 | 9 |
| Strasbourg | 9 | 6 |
| Lille | 9 | 6 |
| Metz | 10 | 3 |