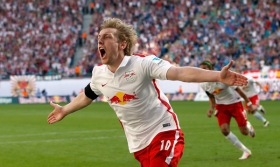 With Manchester United's frustration at a lack of progress with a proposed move for Inter Milan star Ivan Perisic grows, they could now turn to RB Leipzig's Emil Forsberg instead, in a deal that would cost around £45 million. 
- read news story
Chelsea manager Antonio Conte has spoken of his admiration for Tottenham Hotspur striker Harry Kane, saying that he is "one of the best strikers in the world", before suggesting that he is worth at least £100 million.
-
read news story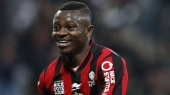 Arsenal are reportedly favourites to sign Nice midfielder Jean-Michel Seri this summer. The 26-year-old was one of the top performers for the French outfit who finished third in their league standings last term.
-
read news story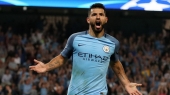 Manchester City defender Nicolas Otamendi has insisted that Sergio Aguero is comfortable at the Etihad despite the continuous speculation surrounding his future.
-
read news story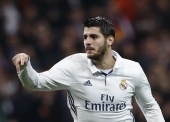 Belgium international Thibaut Courtois has backed summer signing Alvaro Morata to hit the ground running following his club-record move from Real Madrid earlier this month.
-
read news story
| Team | P | PTS |
| --- | --- | --- |
| Arsenal | 0 | 0 |
| Bournemouth | 0 | 0 |
| Brighton and Hove Albion | 0 | 0 |
| Burnley | 0 | 0 |
| Chelsea | 0 | 0 |
| Crystal Palace | 0 | 0 |
| Everton | 0 | 0 |
| Huddersfield Town | 0 | 0 |
| Leicester City | 0 | 0 |
| Liverpool | 0 | 0 |
| Manchester City | 0 | 0 |
| Manchester United | 0 | 0 |
| Newcastle United | 0 | 0 |
| Southampton | 0 | 0 |
| Stoke City | 0 | 0 |
| Swansea City | 0 | 0 |
| Tottenham Hotspur | 0 | 0 |
| Watford | 0 | 0 |
| West Bromwich Albion | 0 | 0 |
| West Ham United | 0 | 0 |
| Team | P | PTS |
| --- | --- | --- |
| Alavés | 0 | 0 |
| Athletic Club | 0 | 0 |
| Atlético de Madrid | 0 | 0 |
| Barcelona | 0 | 0 |
| Celta de Vigo | 0 | 0 |
| Deportivo de La Coruña | 0 | 0 |
| Eibar | 0 | 0 |
| Espanyol | 0 | 0 |
| Getafe | 0 | 0 |
| Girona | 0 | 0 |
| Las Palmas | 0 | 0 |
| Leganés | 0 | 0 |
| Levante | 0 | 0 |
| Málaga | 0 | 0 |
| Real Betis | 0 | 0 |
| Real Madrid | 0 | 0 |
| Real Sociedad | 0 | 0 |
| Sevilla | 0 | 0 |
| Valencia CF | 0 | 0 |
| Villarreal | 0 | 0 |
| Team | P | PTS |
| --- | --- | --- |
| Atalanta | 0 | 0 |
| Benevento | 0 | 0 |
| Bologna | 0 | 0 |
| Cagliari | 0 | 0 |
| Chievo | 0 | 0 |
| Crotone | 0 | 0 |
| Fiorentina | 0 | 0 |
| Genoa | 0 | 0 |
| Internazionale | 0 | 0 |
| Juventus | 0 | 0 |
| Lazio | 0 | 0 |
| Milan | 0 | 0 |
| Napoli | 0 | 0 |
| Roma | 0 | 0 |
| SPAL | 0 | 0 |
| Sampdoria | 0 | 0 |
| Sassuolo | 0 | 0 |
| Torino | 0 | 0 |
| Udinese | 0 | 0 |
| Verona | 0 | 0 |
| Team | P | PTS |
| --- | --- | --- |
| VfL Wolfsburg | 0 | 0 |
| FC Bayern München | 0 | 0 |
| TSG 1899 Hoffenheim | 0 | 0 |
| SV Werder Bremen | 0 | 0 |
| Borussia Dortmund | 0 | 0 |
| 1. FSV Mainz 05 | 0 | 0 |
| Borussia Mönchengladbach | 0 | 0 |
| 1. FC Köln | 0 | 0 |
| FC Augsburg | 0 | 0 |
| Eintracht Frankfurt | 0 | 0 |
| FC Schalke 04 | 0 | 0 |
| Hamburger SV | 0 | 0 |
| Bayer 04 Leverkusen | 0 | 0 |
| Hertha BSC | 0 | 0 |
| RB Leipzig | 0 | 0 |
| Sport-Club Freiburg | 0 | 0 |
| VfB Stuttgart | 0 | 0 |
| Hannover 96 | 0 | 0 |
| Team | P | PTS |
| --- | --- | --- |
| Amiens | 0 | 0 |
| Angers | 0 | 0 |
| Bordeaux | 0 | 0 |
| Caen | 0 | 0 |
| Dijon | 0 | 0 |
| Guingamp | 0 | 0 |
| Lille | 0 | 0 |
| Lyon | 0 | 0 |
| Marseille | 0 | 0 |
| Metz | 0 | 0 |
| Monaco | 0 | 0 |
| Montpellier | 0 | 0 |
| Nantes | 0 | 0 |
| Nice | 0 | 0 |
| Paris Saint-Germain | 0 | 0 |
| Rennes | 0 | 0 |
| St Etienne | 0 | 0 |
| Strasbourg | 0 | 0 |
| Toulouse | 0 | 0 |
| Troyes | 0 | 0 |