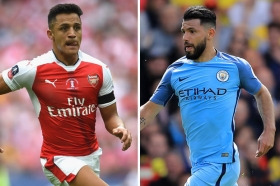 A sensational swap deal could see Premier League stars Sergio Aguero and Alexis Sanchez swap clubs in a deal that would suit all parties involved as Manchester City and Arsenal prepare their teams ahead of the new Premier League season. 
- read news story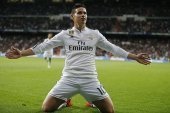 Colombia international James Rodriguez is desperate to join Manchester United this summer after having agreed on personal terms with the Old Trafford outfit.
-
read news story
With the news emerging that Manchester United are showing interest in signing Tottenham and England striker Harry Kane, the North London club have expressed that there is no chance that their star player will be leaving the club.
-
read news story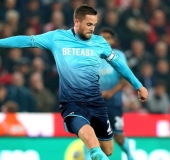 Everton have reportedly had an offer for Swansea City attacking midfielder Gylfi Sigurdsson rejected this afternoon, according to the Daily Mirror. The Toffees have identified the Icelandic international as their top remaining transfer target after a busy summer so far.
-
read news story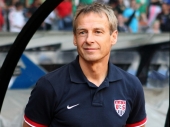 Former Germany striker Jurgen Klinsmann could be appointed as the new Sunderland manager in the coming days if the German consortium interested in the club complete their takeover.
-
read news story
| | | |
| --- | --- | --- |
| Arsenal | 0 | 0 |
| Bournemouth | 0 | 0 |
| Brighton | 0 | 0 |
| Burnley | 0 | 0 |
| Chelsea | 0 | 0 |
| Crystal Palace | 0 | 0 |
| Everton | 0 | 0 |
| Huddersfield | 0 | 0 |
| Leicester | 0 | 0 |
| Liverpool | 0 | 0 |
| Man City | 0 | 0 |
| Man Utd | 0 | 0 |
| Newcastle | 0 | 0 |
| Southampton | 0 | 0 |
| Stoke | 0 | 0 |
| Swansea | 0 | 0 |
| Tottenham | 0 | 0 |
| Watford | 0 | 0 |
| West Brom | 0 | 0 |
| West Ham | 0 | 0 |
| | | |
| --- | --- | --- |
| Real Madrid | 38 | 93 |
| Barcelona | 38 | 90 |
| Atl Madrid | 38 | 78 |
| Sevilla | 38 | 72 |
| Villarreal | 38 | 67 |
| Real Sociedad | 38 | 64 |
| Ath Bilbao | 38 | 63 |
| Espanyol | 38 | 56 |
| Alavés | 38 | 55 |
| Eibar | 38 | 54 |
| Malaga | 38 | 46 |
| Valencia | 38 | 46 |
| Celta Vigo | 38 | 45 |
| Las Palmas | 38 | 39 |
| Real Betis | 38 | 39 |
| Deportivo La Coruña | 38 | 36 |
| Leganés | 38 | 35 |
| Sporting Gijón | 38 | 31 |
| Osasuna | 38 | 22 |
| Granada | 38 | 20 |
| | | |
| --- | --- | --- |
| Juventus | 38 | 91 |
| Roma | 38 | 87 |
| Napoli | 38 | 86 |
| Atalanta | 38 | 72 |
| Lazio | 38 | 70 |
| Milan | 38 | 63 |
| Inter Milan | 38 | 62 |
| Fiorentina | 38 | 60 |
| Torino | 38 | 53 |
| Sampdoria | 38 | 48 |
| Cagliari | 38 | 47 |
| Sassuolo | 38 | 46 |
| Udinese | 38 | 45 |
| Chievo | 38 | 43 |
| Bologna | 38 | 41 |
| Genoa | 38 | 36 |
| Crotone | 38 | 34 |
| Empoli | 38 | 32 |
| Palermo | 38 | 26 |
| Pescara | 38 | 18 |
| | | |
| --- | --- | --- |
| Bayern Mun | 34 | 82 |
| RB Leipzig | 34 | 67 |
| Bor Dortmd | 34 | 64 |
| TSG Hoffenheim | 34 | 62 |
| 1. FC Köln | 34 | 49 |
| Hertha BSC | 34 | 49 |
| SC Freiburg | 34 | 48 |
| Werder Bremen | 34 | 45 |
| B Gladbach | 34 | 45 |
| Schalke | 34 | 43 |
| Eintracht Frankfurt | 34 | 42 |
| Bayer Levkn | 34 | 41 |
| FC Augsburg | 34 | 38 |
| Hamburger SV | 34 | 38 |
| Mainz 05 | 34 | 37 |
| VfL Wolfsburg | 34 | 37 |
| FC Ingolstadt | 34 | 32 |
| Darmstadt 98 | 34 | 25 |
| | | |
| --- | --- | --- |
| Amiens | 0 | 0 |
| Angers | 0 | 0 |
| Bordeaux | 0 | 0 |
| Caen | 0 | 0 |
| Dijon | 0 | 0 |
| Guingamp | 0 | 0 |
| Lille | 0 | 0 |
| Lyon | 0 | 0 |
| Marseille | 0 | 0 |
| Metz | 0 | 0 |
| Monaco | 0 | 0 |
| Montpellier | 0 | 0 |
| Nantes | 0 | 0 |
| Nice | 0 | 0 |
| Paris St G | 0 | 0 |
| Rennes | 0 | 0 |
| Saint-Étienne | 0 | 0 |
| Strasbourg | 0 | 0 |
| Toulouse | 0 | 0 |
| Troyes | 0 | 0 |