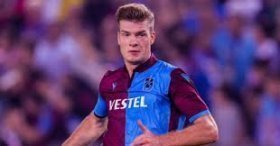 Manchester United are reportedly said to hold an interest in signing Crystal Palace forward Alexander Sorloth amid his impressive loan stint at Trabzonspor.
- read news story
Henrikh Mkhitaryan has refused to rule out the possibility of extending his career with Arsenal once his loan spell with AS Roma concludes this term.
-
read transfer story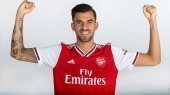 Spain international Daniel Ceballos has said that he is determined to complete the 2019/2020 season with Arsenal before making the return to parent club Real Madrid.
-
read this news article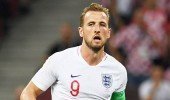 Arsenal legend Ian Wright believes Harry Kane will remain with Tottenham Hotspur next season before considering whether to part ways with the club.
-
read this news article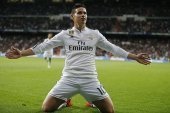 Arsenal have been handed a transfer boost for the next transfer window with Real Madrid prepared to part ways with James Rodriguez on a permanent basis.
-
read this news article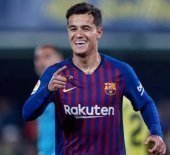 Leicester City have reportedly emerged as surprise contenders to sign former Liverpool star Philippe Coutinho from Barcelona during the summer.
-
read this news article
| Team | P | PTS |
| --- | --- | --- |
| Liverpool | 29 | 82 |
| Manchester City | 28 | 57 |
| Leicester City | 29 | 53 |
| Chelsea | 29 | 48 |
| Manchester United | 29 | 45 |
| Wolverhampton Wanderers | 29 | 43 |
| Sheffield United | 28 | 43 |
| Tottenham Hotspur | 29 | 41 |
| Arsenal | 28 | 40 |
| Burnley | 29 | 39 |
| Crystal Palace | 29 | 39 |
| Everton | 29 | 37 |
| Newcastle United | 29 | 35 |
| Southampton | 29 | 34 |
| Brighton and Hove Albion | 29 | 29 |
| West Ham United | 29 | 27 |
| Watford | 29 | 27 |
| Bournemouth | 29 | 27 |
| Aston Villa | 28 | 25 |
| Norwich City | 29 | 21 |
| Team | P | PTS |
| --- | --- | --- |
| Barcelona | 27 | 58 |
| Real Madrid | 27 | 56 |
| Sevilla | 27 | 47 |
| Real Sociedad | 27 | 46 |
| Getafe | 27 | 46 |
| Atlético de Madrid | 27 | 45 |
| Valencia CF | 27 | 42 |
| Villarreal | 27 | 38 |
| Granada CF | 27 | 38 |
| Athletic Club | 27 | 37 |
| Osasuna | 27 | 34 |
| Real Betis | 27 | 33 |
| Levante | 27 | 33 |
| Alavés | 27 | 32 |
| Real Valladolid | 27 | 29 |
| Eibar | 27 | 27 |
| Celta de Vigo | 27 | 26 |
| Mallorca | 27 | 25 |
| Leganés | 27 | 23 |
| Espanyol | 27 | 20 |
| Team | P | PTS |
| --- | --- | --- |
| Juventus | 26 | 63 |
| Lazio | 26 | 62 |
| Internazionale | 25 | 54 |
| Atalanta | 25 | 48 |
| Roma | 26 | 45 |
| Napoli | 26 | 39 |
| Milan | 26 | 36 |
| Verona | 25 | 35 |
| Parma | 25 | 35 |
| Bologna | 26 | 34 |
| Sassuolo | 25 | 32 |
| Cagliari | 25 | 32 |
| Fiorentina | 26 | 30 |
| Udinese | 26 | 28 |
| Torino | 25 | 27 |
| Sampdoria | 25 | 26 |
| Genoa | 26 | 25 |
| Lecce | 26 | 25 |
| SPAL | 26 | 18 |
| Brescia | 26 | 16 |
| Team | P | PTS |
| --- | --- | --- |
| FC Bayern München | 25 | 55 |
| Borussia Dortmund | 25 | 51 |
| RB Leipzig | 25 | 50 |
| Borussia Mönchengladbach | 25 | 49 |
| Bayer 04 Leverkusen | 25 | 47 |
| FC Schalke 04 | 25 | 37 |
| VfL Wolfsburg | 25 | 36 |
| Sport-Club Freiburg | 25 | 36 |
| TSG 1899 Hoffenheim | 25 | 35 |
| 1. FC Köln | 25 | 32 |
| 1. FC Union Berlin | 25 | 30 |
| Eintracht Frankfurt | 24 | 28 |
| Hertha BSC | 25 | 28 |
| FC Augsburg | 25 | 27 |
| 1. FSV Mainz 05 | 25 | 26 |
| Fortuna Düsseldorf | 25 | 22 |
| SV Werder Bremen | 24 | 18 |
| SC Paderborn 07 | 25 | 16 |
| Team | P | PTS |
| --- | --- | --- |
| Paris Saint-Germain | 27 | 68 |
| Marseille | 28 | 56 |
| Rennes | 28 | 50 |
| Lille | 28 | 49 |
| Reims | 28 | 41 |
| Nice | 28 | 41 |
| Lyon | 28 | 40 |
| Montpellier | 28 | 40 |
| Monaco | 28 | 40 |
| Angers | 28 | 39 |
| Strasbourg | 27 | 38 |
| Bordeaux | 28 | 37 |
| Nantes | 28 | 37 |
| Brest | 28 | 34 |
| Metz | 28 | 34 |
| Dijon | 28 | 30 |
| St Etienne | 28 | 30 |
| Nîmes | 28 | 27 |
| Amiens | 28 | 23 |
| Toulouse | 28 | 13 |