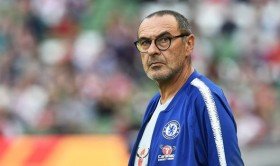 Chelsea manager has said that he is more worried about the results in the aftermath of the Blues' disappointing 2-0 defeat to Manchester United in the FA Cup fifth round.
- read news story
Breaking Transfer Stories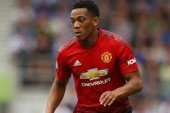 France manager Didier Deschamps has been impressed with the progress of Anthony Martial through the current campaign and has hinted that the attacker could earn a call-up for the forthcoming internationals.
-
read news story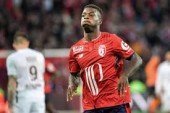 European giants Paris Saint-Germain and Barcelona are prepared to go head-to-head to pursue the signature of Nicolas Pepe from Lille at the end of the season.
-
read news story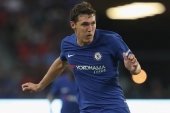 Chelsea defender Andreas Christensen has clarified that he had no plans of parting ways with the Blues during the recently-concluded transfer window.
-
read news story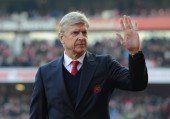 Former Arsenal boss Arsene Wenger has admitted that he is surprised that Aaron Ramsey has decided to part ways with the Gunners at the end of the season.
-
read news story
| Team | P | PTS |
| --- | --- | --- |
| Manchester City | 27 | 65 |
| Liverpool | 26 | 65 |
| Tottenham Hotspur | 26 | 60 |
| Manchester United | 26 | 51 |
| Arsenal | 26 | 50 |
| Chelsea | 26 | 50 |
| Wolverhampton Wanderers | 26 | 39 |
| Watford | 26 | 37 |
| Everton | 27 | 33 |
| West Ham United | 26 | 33 |
| Bournemouth | 26 | 33 |
| Leicester City | 26 | 32 |
| Crystal Palace | 26 | 27 |
| Brighton and Hove Albion | 26 | 27 |
| Burnley | 26 | 27 |
| Newcastle United | 26 | 25 |
| Cardiff City | 26 | 25 |
| Southampton | 26 | 24 |
| Fulham | 26 | 17 |
| Huddersfield Town | 26 | 11 |
| Team | P | PTS |
| --- | --- | --- |
| Barcelona | 24 | 54 |
| Atlético de Madrid | 24 | 47 |
| Real Madrid | 24 | 45 |
| Sevilla | 24 | 37 |
| Getafe | 24 | 36 |
| Alavés | 24 | 36 |
| Real Sociedad | 24 | 34 |
| Real Betis | 24 | 33 |
| Valencia CF | 24 | 32 |
| Eibar | 24 | 31 |
| Athletic Club | 24 | 30 |
| Levante | 24 | 30 |
| Leganés | 24 | 29 |
| Espanyol | 24 | 29 |
| Girona | 24 | 27 |
| Real Valladolid | 24 | 26 |
| Celta de Vigo | 24 | 24 |
| Villarreal | 24 | 23 |
| Rayo Vallecano | 24 | 23 |
| Huesca | 24 | 18 |
| Team | P | PTS |
| --- | --- | --- |
| Juventus | 24 | 66 |
| Napoli | 24 | 53 |
| Internazionale | 24 | 46 |
| Milan | 24 | 42 |
| Roma | 24 | 41 |
| Atalanta | 24 | 38 |
| Lazio | 24 | 38 |
| Fiorentina | 24 | 35 |
| Torino | 24 | 35 |
| Sampdoria | 24 | 33 |
| Sassuolo | 24 | 30 |
| Parma | 24 | 29 |
| Genoa | 24 | 28 |
| Cagliari | 24 | 24 |
| Udinese | 24 | 22 |
| SPAL | 24 | 22 |
| Empoli | 24 | 21 |
| Bologna | 24 | 18 |
| Frosinone | 24 | 16 |
| Chievo | 24 | 9 |
| Team | P | PTS |
| --- | --- | --- |
| Borussia Dortmund | 22 | 51 |
| FC Bayern München | 22 | 48 |
| Borussia Mönchengladbach | 22 | 43 |
| RB Leipzig | 22 | 41 |
| Bayer 04 Leverkusen | 22 | 36 |
| VfL Wolfsburg | 22 | 35 |
| Eintracht Frankfurt | 22 | 34 |
| TSG 1899 Hoffenheim | 22 | 33 |
| Hertha BSC | 22 | 32 |
| SV Werder Bremen | 22 | 31 |
| 1. FSV Mainz 05 | 22 | 27 |
| Fortuna Düsseldorf | 22 | 25 |
| Sport-Club Freiburg | 22 | 24 |
| FC Schalke 04 | 22 | 23 |
| FC Augsburg | 22 | 18 |
| VfB Stuttgart | 22 | 15 |
| Hannover 96 | 22 | 14 |
| 1. FC Nürnberg | 22 | 13 |
| Team | P | PTS |
| --- | --- | --- |
| Paris Saint-Germain | 23 | 62 |
| Lille | 25 | 50 |
| Lyon | 25 | 46 |
| Marseille | 25 | 40 |
| St Etienne | 25 | 40 |
| Montpellier | 24 | 38 |
| Reims | 25 | 38 |
| Nice | 25 | 37 |
| Strasbourg | 25 | 36 |
| Nîmes | 25 | 36 |
| Rennes | 25 | 36 |
| Angers | 25 | 33 |
| Bordeaux | 24 | 31 |
| Nantes | 25 | 27 |
| Toulouse | 25 | 27 |
| Monaco | 25 | 22 |
| Amiens | 25 | 21 |
| Dijon | 24 | 20 |
| Caen | 25 | 19 |
| Guingamp | 24 | 14 |