Man City star Toure nears drug ban return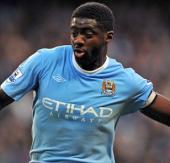 Kolo Toure

returns from a drug ban next week, and admits that he has never felt so fit. Toure was banned for 6 months in March after taking a diet pill from his wife.
Toure said: "I feel totally recharged and as fit as I've ever been in my life. Hopefully it will be like having a new signing because I am back and want to challenge for a first-team place.

"I know it won't be easy because the team is playing so well but I'll be pushing hard for an opportunity.

"I'm just so happy to be back and I will give everything I have to the team, this club and our fans. I can't wait to get going."