Chelsea boss not afraid to drop Lampard, Torres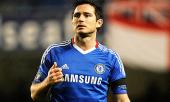 Chelsea boss

Andre Villas-Boas

is not worried about the form of

Fernando Torres

, and insisted that should he need to drop the Spaniard, he would do so.
"It can never compromise the objectives of the team and the things you want to achieve. It's not just about scoring goals, it's about creating opportunities and he's been doing that. The moment when it compromises the running of the team I think it has to come to an end.

The talent is there. The question is regaining that confidence – that comes with training and time and finding the back of the net. One of our main focuses is getting the best out of the players, to free themselves and exploit their talent. You just have to persist."

When asked about the form of Frank Lampard, Andre Villas Boas revealed that he too, like Fabio Capello, would have no issue dropping the 33 year old midfielder.