Sepp Blatter rules out quitting FIFA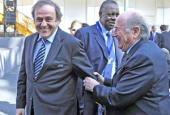 A report today indicated that

Sepp Blatter

has been considering standing down as president of FIFA, has been denied by Blatter himself. Blatter intends to continue in his role.
Widespread speculation this morning indicates that Sepp Blatter has already agreed to offer his position to Michel Platini once he finally stands down.

Blatter was quick to reject the rumours: "The existence of a reported 'deal' between me and Michel Platini for the FIFA Presidency is pure nonsense.

"The suggestion that I intend to stop my four-year mandate before its end is simply ridiculous."