Michel Platini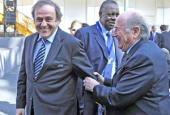 Date of Birth: 21 June 1955

Birthplace: Jœuf, Jœuf, France




News from around the web

Graeme Souness turned down the chance to sign Eric Cantona for Liverpool FC
for Liverpool by Michel Platini after playing against Auxerre. Read More Related Articles Gary Neville sends Odion Ighalo...
11/05 19:46




News from Eyefootball

Former French superstar and UEFA President Michel Platini's lawyer believes Platini will be reinstated as UEFA president before the start of the Euro 2016 tournament. This is a rather unexpected verdict for many.

Former France international and current UEFA president Michel Platini has slammed the merits of Paris St Germain making a move for former England captain.

A report today indicated that Sepp Blatter has been considering standing down as president of FIFA, has been denied by Blatter himself. Blatter intends to continue in his role.

Robbie Keane has hit out at FIFA, accusing them of preferring to see the bigger teams qualify for the World Cup. The controversial comments are sure to anger many at the governing body. Keane was disappointed with France's successful qualification after Thierry Henry appeared to handball in the run up to the equalising goal against Ireland on Wednesday.

UEFA President, Michel Platini, has warned the Euro 2010 co-hosts, Ukrain and Poland that the tournament will be held elsewhere if the stadiums are not ready in time.

Sepp Blatter gets full backing from FIFA to go with the controversial '6+5' foreign quota proposal to limit the number of foreign players to five in any starting line-up. He had recently received warnings that it would be incompatible with European Law.

UEFA president Michel Platini might have long left playing football but he still continues to follow the game and especially the Italian Serie A. In an interview to the Italian sports paper La Gazzetta Dello Sport Platini was full of praise for Juventus striker Alessandro Del Piero and for Inter Milan.

UEFA have for once decided to make a popular move by changing their policy on yellow cards accumulated after the group stages.

The Premiership have hit out at recent comments made by Michel Platini regarding the amount of foreigners that ply their trade in England.

Michel Platini has hit out at English clubs for their constant purchasing of foreign talent and lack of development of their own national talent. Arsenal have long been used as an example of lack of English talent, and Platini appears to back the notion of a quota for foreign players.

UEFA president Michel Platini on Thursday ruled out the introduction of video replays to solve controverisal calls in football games but said he favoured the eventual use of goal-line technology. "Football must remain human, but we must also try to limit mistakes," said Platini.

French international coach Raymond Domenech has been warned over recent comments about complaining that the Italy vs. France Olympics 2000 game was rigged by Italian officials.