Sepp Blatter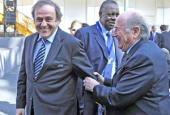 Date of Birth: 10 March 1936

Birthplace: Visp, Visp, Valais, Switzerland




News from around the web

What does FIFA stand for, who is president & what happened to Sepp Blatter?

22/05 14:09




News from Eyefootball

Former French superstar and UEFA President Michel Platini's lawyer believes Platini will be reinstated as UEFA president before the start of the Euro 2016 tournament. This is a rather unexpected verdict for many.

FIFA president Sepp Blatter has told the press that there will be no reversal of the decision to ban Luis Suarez from football for four months. The Uruguayan joined Liverpool last week in a massive 90 million euro deal.

The draw for the World Cup pits England with Italy, Uruguay and Costa Rica whilst another group contains Ivory Coast, Japan, Colombia and Greece; thus FIFA's ranking system comes under major scrutinity yet again.

Arsenal manager Arsene Wenger thinks that the comments made by Sepp Blatter on racism were appalling, but also thinks they have been taken out of context in England. Wenger feels that there is a strong feeling of discontent for Blatter after England's failed World Cup bid.

Chelsea manager Andre Villas-Boas thinks that enough is enough, and FIFA president Sepp Blatter should be forgiven for his comments on racism. Blatter insists that, even though racism may be rife in the game, everything should be forgiven with a handshake after the game.

Former Arsenal, Newcastle and Tottenham defender Sol Campbell has slammed Sepp Blatter for his comments on racism. The FIFA president suggested that racism can be resolved simply with a handshake.

FIFA president Sepp Blatter has ruled out quitting his role in the wake of his high profile racism remarks. Blatter admitted that he is sorry for offending during this "serious incident" but he will not step down despite his comments.

A report today indicated that Sepp Blatter has been considering standing down as president of FIFA, has been denied by Blatter himself. Blatter intends to continue in his role.

Robbie Keane has hit out at FIFA, accusing them of preferring to see the bigger teams qualify for the World Cup. The controversial comments are sure to anger many at the governing body. Keane was disappointed with France's successful qualification after Thierry Henry appeared to handball in the run up to the equalising goal against Ireland on Wednesday.

FIFA president Sepp Blatter wants to see the success of African football, and is hopeful and confident one of the African nations will make the World Cup semi-finals.

FIFA president Sepp Blatter has blasted the reigning Premiership and European champions Manchester United over their stranglehold of Cristiano Ronaldo,accusing them of "modern slavery".

The World Cup 2010 is due to take place in South Africa, concerns over security suggests that FIFA might look for a new host nation. Sepp Blatter, the Fifa president, confirmed that he has a 'Plan B' for the World Cup.

Real Madrid goalkeeper Iker Casillas has backed Sepp Blatter's controversial plan to have the six plus five player rule, and believes it would help home grown talent emerge.

Sepp Blatter gets full backing from FIFA to go with the controversial '6+5' foreign quota proposal to limit the number of foreign players to five in any starting line-up. He had recently received warnings that it would be incompatible with European Law.

Sepp Blatter is still hunting a tightening of rules, as he wants to make it harder for players to switch nationality and hopes to only allow five or six players of foreign nationality in each side.

FIFA president Sepp Blatter has said that the chance of 39th global game is definitely over after lengthy discussions. The Premier League had hoped that FIFA would allow them to consider the global opportunity of playing matches abroad.

FIFA president Sepp Blatter wants changes in the rules for malicious tackles. Martin Taylor´s career threatening tackle on Eduardo was pinpointed by Blatter.

The Premier League has announced that they have delayed their meeting with FIFA president Sepp Blatter. The meeting was arranged to discuss the possibiliy of globalising the Premiership with a round of international matches - round 39.

FIFA president Sepp Blatter has confirmed intentions to move the African Nations Cup from European winter time to European summer.

Sepp Blatter has controversially moved to claim he is disappointed that The FA chose to appoint another foreign coach and touched upon the examples set by other successful nations who go for coaches within their own countries.