Dudek reveals Arsenal snub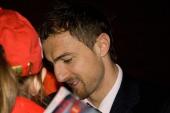 Former Liverpool and Real Madrid keeper

Jerzy Dudek

has sensationally revealed that he almost signed for Arsenal after his stint at Feyenoord.
Dudek instead ended up at Liverpool, where he featured over 120 times, winning the 2005 Champions League in the process.

In an exclusive interview with the website Gunners.com.pl, the recently retired shot stopper revealed how close he was to putting on the Arsenal shirt.

"I was in talks with Wenger," Dudek confirmed. "It was basically all agreed.

"I came back to Feyenoord with hope that the clubs will agree a fee, but Feyenoord wanted £10 million pounds. Wenger was only willing to give £7 million.

"Two months later Liverpool bought me for £5 million. That's when Wenger contacted me and my agent and asked why didn't Feyenoord sell me for £7million earlier but accepted £5 million from Liverpool. I was very close to playing for the Arsenal team, the team which won a lot of trophies."

Arsenal instead signed Ipswich Town's Richard Wright for a reported £6 million, but he was unable to settle in and left after only one year.