Comolli: expect quiet Liverpool summer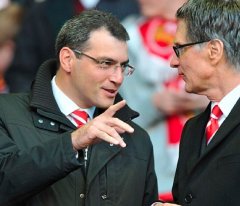 Liverpool's director of football

Damien Comolli

doesn't expect to spend the same amount of money this summer as he did last. The Reds spent 120m GBP on new players, and this year they will be more careful with their transfer spend.
"It is early days. We will probably make some adjustments in the summer but nothing that we've done before," Comolli said. "We signed nine players since Kenny came back so there will be a few adjustments but nothing massive.


"We have done the hard work and now it is a question of making some adjustments in certain positions.


"Kenny has said it several times that we have a very competitive squad and all positions are covered by two or three players, quality players, and we have a lot of young players coming through as well."