Carlos Vela plans Arsenal exit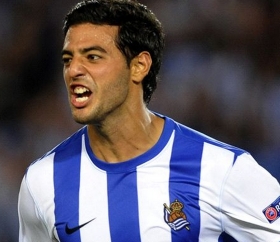 Mexican striker

Carlos Vela

- currently on loan to Spanish side Real Sociedad - is hoping that he will be able to extend his stay in La Liga as he has no plans to return to the Premier League with Arsenal.
Carlos Vela has enjoyed a successful spell on loan at Sociedad, and there have already been suggestions that the 23-year-old is planning to engineer a transfer away from London.


It is understood that Vela is tired of waiting for a chance in the first team at Arsenal, and has requested that his agent find him a new club to join in the summer.


"In every game, whether I play well or badly, I am not thinking about what Arsenal think of me. I give all my effort for Real Sociedad," Vela quipped.


"Afterwards I will talk with them and make a decision. The best thing is for me to enjoy every moment that is left.


"From my point of view, from a footballing and lifestyle standpoint it is better to stay in this league.


"I have a contract with an English team and if I have to return there I will adapt, but if I could stay here I would be happier."