Tottenham want to keep Adebayor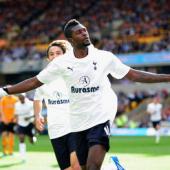 Tottenham manager

Andre Villas-Boas

has no plans to sell

Emmanuel Adebayor

, despite the Togan international reportedly being unhappy spending time on the bench this year.
So far this season, Villas-Boas has preferred England international striker Jermain Defoe to the former Arsenal and Manchester City striker.


Villas-Boas has laughed off talk of a move away from Adebayor: "Certainly there is no interest in selling or loaning Adebayor.


"We brought him in this season, unfortunately for him it hasn't been working out in terms of injuries.


"We have full belief in Adebayor, he is one of the greatest strikers in the world. Sooner or later he is going to be back in the squad.