Barton reveals QPR move motivated by money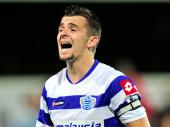 Marseille's on loan midfielder

Joey Barton

has sensationally revealed that he only joined the struggling Premier League club for money. The midfielder has joined French club Marseille on loan for the season.
Barton has proved a revelation in Ligue 1, and the outspoken midfielder has revealed that his previous move has only been motivated by money. Believed to have been earning a weekly six figure sum in London, it seems that he is happier without money. That certainly left less money to spend on sports betting sites. "When I went to prison, I received €8.60 per week and it was much simpler.

"You used the money to eat and that was it," said the player.


Barton later revealed: "When I went to QPR, it was a choice dictated by money", the tough-tackling midfielder told French sports daily L'Equipe.

"It was the first time I had taken a decision on those grounds.

"The more money you have, the more you have problems."