Messi Would Cost €580m, Says Rosell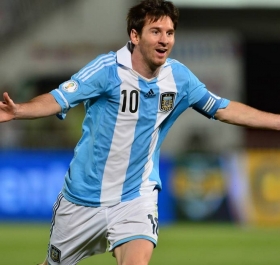 Barcelona president

Sandro Rosell

has claimed

Lionel Messi

's valuation to be in the region of €580 million and he added that the player is too important for the Catalans to let go of.
Rosell said that he would not stand in any player's way if he has doubts about his commitment with the Liga champions, although he mentioned Messi as an exception to it. In his interview with Sport, he said:


"All players who want to leave can leave - all but Messi"


"They'd have to give Messi €250m to pay the LFP clause, then they'll have to pay more than 56 per cent in taxes. This would be about €580m."

"Thiago has gone because he wanted to. He asked in writing to be allowed to leave. We do not want players who do not think of Barca first."


The president also admitted to the club's defeat in its pursuit of PSG defender Thiago Silva, who the French giants don't want to sell.


"The player we wanted [Thiago Silva] is unattainable and unfeasible, because the other side do not want to sell. It is impossible under these conditions. From here we have to look at other options, to see what we can do," Rosell added.