Tiago confirms Chelsea offer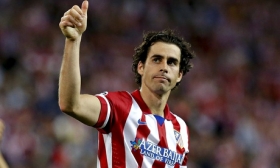 Former Chelsea midfielder Tiago confirmed that he had an option to return during the summer. Tiago is currently at Atletico Madrid and only recently signed a new contract.


The Portuguese midfielder was amongst a number of players who had been linked with a transfer to West London during the summer.

"The summer was very difficult. I want to explain to the fans what happened but there are some things I cannot explain because they are not important," Tiago told AS.

"At the end of last season, I received a great offer [from Chelsea] and it made me think about making a change. But I realised that the most important thing was to feel important at a club.

"I spoke to Cholo [Atletico boss Diego Simeone] and he told me he wanted me in the squad in the next training session. From then, I could only think of rejoining Atletico and wearing this shirt again."