Hangeland retires from professional football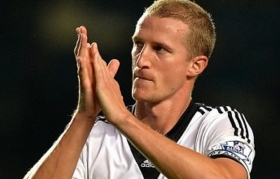 Former Fulham and Crystal Palace defender

Brede Hangeland

has announced his retirement from professional football. 
The 35 year old who scored 4 goals in 91 appearances for Norway, made 238 appearances during his eight years playing for Fulham and Crystal Palace. Hangeland spent the first five year of his career at Norwegian club Viking, the 6ft 6 in centre back was signed by Fulham in 2008, after a brief two year stint at F.C Copenhagen. 

Hangeland then moved to Crystal Palace in 2014 on a free transfer and was released by the club at the end of the season. Hangeland speaking to Sky Sports Now said ' I've thought long and hard about my footballing career and I've decided it's my time to end it. Hangeland went on further to say ' I'm announcing my retirement after a long time, and half of that time in this lovely county'. Looking further down the line Hangeland is optimistic and went on to say 'You can choose to be sad that it's over or be happy that it happened. 

One of Hangeland's most memorable moments was in 2010 in the Premier League when he headed an injury time equaliser against Manchester United, just moments after he scored an own goal at the other end. Hangeland speaking of this said 'We were playing playing Manchester United at home at Craven Cottage and there was me scoring a fine header, that was a lovely moment, back when I was good'.