Alves Slams Barcelona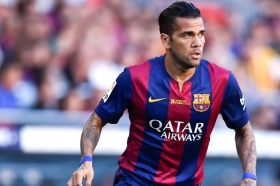 Brazilian defender

Dani Alves

has slammed his former club Barcelona, calling the directors at the Nou Camp "false and ungrateful". 


Alves now plays his football in Serie A for Juventus, signing on a free transfer last summer, after spending eight years with Barcelona. During his spell in Spain, Alves made 247 appearances, and was part of a team that won a highly impressive six La Liga titles and three Champions League trophies. 

In an interview with a Spanish newspaper, Alves has claimed that he heard rumours that he would be leaving the Nou Camp for aslong as three seasons before he did so, yet he was never told anything to his face. He says that he was given a lack of respect by the board, who only offered Alves a new deal when FIFA dealt the club a transfer ban. This lead to the fullback assuring that a termination clause was negotiated into the new contract. Alves went on to say that "the people who run Barcelona today have no idea how to treat their players."

After his time with the Catalan giants ended on a sour note, the 33 year old's new club Juventus are performing well in Serie A, having a seven point lead at the top of the league, making it likely that Alves will add another medal to his list of honours at the end of the season.