Mourinho hits back at Pogba critics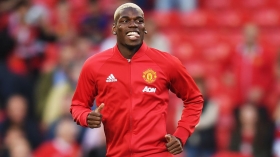 Paul Pogba

has been the target of much criticism in recent months, as critics believe that he is underperforming and has not lived up to his world record transfer fee. Pogba's manager,

Jose Mourinho

, has hit back at those critics today, saying that he is "very happy" with the Frenchman's performances and that the abuse is due to envy.


Pogba was tracked by Manchester United, as he put in a string of high quality performances and stood out as a star in the Juventus side in Serie A. It took a fee of £89 million to bring him to Old Trafford, a fee that brought with it a huge amount of expectation. The 24 year old has not created too many memorable moments, however statistics show that Pogba is one of United's top performers this season.

Speaking in a press conference today ahead of Manchester United's Europa League match with FC Rostov, manager Jose Mourinho explained that "the best thing about him (Pogba) is his personality." as it means that he doesn't care about what people say about him.

Mourinho went on to explain how Pogba comes from a very underprivileged background and that he has got to where he is today from hard work. "It is not his fault that some pundits are in real trouble while Paul is a multi-millionaire" Mourinho claimed, going on to say that the criticism towards his player was a result of "envy."

Mourinho will be hoping that Pogba can put in a strong performance against FC Rostov on Thursday in order for United to progress further in the competition.