Champions League clash called off after explosion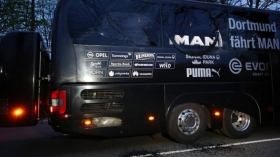 The Champions League quarter final tie between Borussia Dortmund and Monaco was postponed this evening after the Dortmund team bus was hit by an explosion. 
Both teams were preparing to battle it out in the first leg of the quarter final tie, with the Bundesliga team setting off from their team hotel to travel to the ground. According to BBC Sport, the local police confirmed that there had been three explosions in the area of the team bus. 

Tweeting after the incident, Dortmund's official page explained that "a bomb exploded at the team bus next to the hotel."

Worryingly, the club also announced that defender Marc Bartra had been injured in the incident, which required him to go to hospital for treatment. 

Understandably, both teams agreed for the game to be postponed. It will now be played on Wednesday evening, with a tight schedule meaning that the match must be played soon in order for the second leg to go ahead as planned.