Defoe called up to England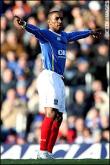 Jermaine Defoe

has recently been called up into the England squad after news of

Gabriel Agbonlahor

's injury.
Gabriel Agbonhalor pulled a hamstring during Aston Villa's defeat against Fulham at Craven Cottage and has forced Cappello to bring in Defoe into the squad.

Defoe will jon up with the England team tomorrow before they face their first match under Fabio Cappello, in a friendly against Switzerland.

Defoe was not originally in the 30 man squad but his debut appearance for Portsmouth clearly earnt himself a last minute call up.

We are still not sure if Gabriel Agbonlahor's injury will keep him out of the match against Switzerland but Martin Oneil doesnt want to take any risks.

"I'd like him to join up with the England squad if our and their medical departments agree," Villa boss Martin O'Neill told the club website.

"That would be nice for him but there's no way he can play."

"It is quite sore at the moment and he went out just after the break to try and run it off and felt it so we didn't take any chances," O'Neill said.