Kylian Mbappé fires Monaco to Ligue 1 title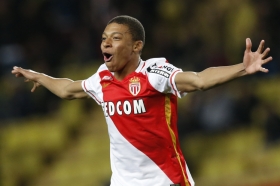 Mbappé opened the scoring against St-Étienne in 2-0 victory which crowned Monaco as the new champions of France.
Mbappé has been a revelation in Europe this season and the forward scored his 15th goal of the season, before Valère Germain put the icing on the cake with the last kick of the game, to deliver the Ligue 1 title to Monaco for the first time in 17 years. 

Monaco kicked off knowing a draw would be enough to snatch the title away from Paris Saint-Germain, who had won the league four years in a row before yesterday. However, Monaco did not play for a draw and were firing on all cylinders to clinch the title in style, with Mbappé being the main threat.

The young French forward came close to scoring just 18 minutes in after collecting the ball on the right side but saw his powerful shot parried away for a corner by the St-Étienne goalkeeper.

However, Mbappé was not to be denied his moment and he found the net just one minute later. Monaco's counterattacks, as Europe has seen so many times this season, were too much for St-Étienne. They were dispossessed in midfield and Falcao threaded a delightful through ball to Mbappé as he raced through on goal, went round the keeper and calmly slotted it home.

The hosts were far from their best in the second half and were made to endure a string of nervy near-misses from St-Étienne. Monaco nerves were finally settled when Valère Germain completed yet another brilliant counterattack which led to players, staff and fans deliriously celebrating their team's first title since 2000 and their eighth overall.