Premier League's top clubs interested in Jack Butland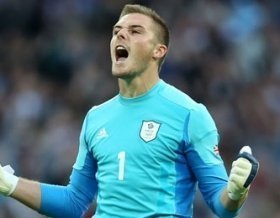 Stoke City's

Jack Butland

has emerged as the latest goalkeeper to be linked with the Premier League's top clubs this summer, after the England goalkeeper has made a successful return to action after a bad injury.


Butland has been out of action for 12 months, after fracturing his ankle whilst playing for England. He has been one of the highest rated young goalkeepers of recent times, and that praise has continued since his recent return.

StarSport reports today that Manchester United, Manchester City, Chelsea and Arsenal are all showing interest in signing the twenty four year old when the transfer window opens, and have all apparently been in contact with Stoke City in regards to his recovery.

The Potters' manager Mark Hughes has urged his goalkeeper to remain with the club, but with his contract running until 2021, they will at least be able to raise a considerable amount in return, if he decides to leave.

Butland appears to be enjoying the praise that is coming his way, saying "I see it as a really positive thing. It is nice to be recognised, I must be doing something right."

With so many goalkeepers being linked with moves this summer, it appears that it will take one completed move to kickstart a chain of deals.