Bruce: we need 36 points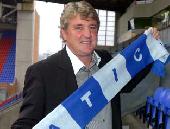 Steve Bruce

has admitted that he feels Wigan only needed 36 points to guarantee survival in the Premiership. Wigan play a potential six-pointer with Sunderland at the weekend. Keeping Wigan in the Premiership would be his biggest managerial achievement.
Bruce quipped: "The good thing for us is that we've got ourselves into the pack and at one stage I didn't think that would be possible. But thankfully the lads have rallied around a bit and we've given ourselves a chance.

"Thirty six might be enough because the teams have all got to play each other as well. There are eight teams in there and when you've all got to play one another that restricts the number of points you can get.

"We can't get carried away, we've got 13 games left and we need the same return - if we get the same as we've got from the last 11 games then I think we'll stay up."