Gerrard: Liverpool need 4th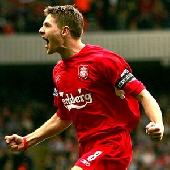 Steven Gerrard

has admitted that Liverpool are now focusing on Champions League qualification rather than pushing for the Premiership title. Liverpool are 19 points behind the Gunners at the top of the Premiership.
Gerrard told the Daily Star: "We realise now that we're facing a big challenge to finish in the top four. We've got to forget about the title and focus on fighting for fourth place.

"There are a lot of teams around us who are in good form and playing well, so it's important that we don't let our standards drop."