Cannavaro ready for Roma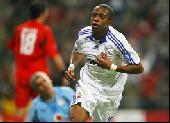 Fabio Cannavaro

is relishing the prospect of a 'tough battle' between his club Real Madrid and Italian side Roma in the Champions League next Tuesday.
"At Real the mentality is always to win; we go to Rome to beat them. However, it is certain that we did not celebrate the draw; I said this to (Daniele) De Rossi as soon as I saw him in the national team. We know how good Roma are and for us they are an uncomfortable adversary," he told Roman daily 'Il Messaggero'.

Cannavaro played down talk of a falling out with Francesco Totti: "He wanted me to go to Roma after they won the Scudetto, to play in the Champions League. Together we have gained the most prestigious trophy for a football player: I do not forget how he suffered and worked hard to recover in time for the World Cup in 2006."