Gallas: Man Utd are arrogant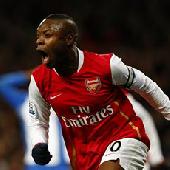 Arsenal captain

William Gallas

has labelled Man Utd as arrogant and launched a personal attack on Sir

Alex Ferguson

. Gallas feels that United were over confident in their defence of the title.
Gallas believes that United have been far too complacent in their defence of the Premiership title this season.

"They are a strong team with lots of experienced players. But, sometimes, they think they're too good. Too arrogant, yes," he told GQ magazine.

"It can make you complacent. We understand that problem. We know we have to score goals, be strong in defence and kill teams in the first half.

"Our squad can win things. And I know that it will be difficult for Manchester United to win."