Keane to wait for new deal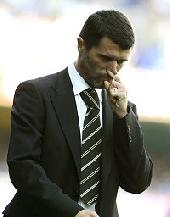 Roy Keane

has insisted that he has more important things to worry about with regards to his new contract in the pipeline at Sunderland - insisting his first priority will be to keep the Black Cats in the Premiership.
"I've got more important things to worry about," he said, referring to talk of a new deal.

"I've got another year on my contract here. I'm very, very happy, very lucky to be manager of Sunderland and if the club are happy with what I'm doing and want to chat in the summer then I'll be delighted.

"But I don't think it's really that important at this stage of the season.

"The priority for us is trying to win some football matches so we'll cross that bridge when we get to it."