Bordeaux man Malcom eyes Bayern Munich transfer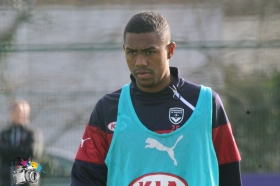 Bordeaux star Malcom, who has recently been linked with a move away from his club to Arsenal, has told reporters that he dreams of a transfer to Bayern Munich. The Brazilian wonderkid has been a revelation in Ligue 1 this season.


Malcom is hopeful that Bayern Munich will be amongst the teams interested in the upcoming summer transfer window and told German reporters that Bayern would be his preferred destination.

"I think it's time," Malcom told Sky Deutschland. "I've done a good job here and I'm grateful to Bordeaux, but I need a new challenge now, I have to set new goals. Bayern is one of the biggest clubs in the world. It would be a dream to play there someday. Everyone knows Bayern Munich. It makes me very happy that they think about me. I will continue to work hard on me. Who knows, a change to Munich may soon become a reality.

When asked about England, Malcom quipped: "The Premier League is also a very interesting option. I learned the language quickly, had no major difficulties. French was much harder, so in England I would be fine, but in the end, I'd integrate anywhere."