Gerrard angry with Liverpool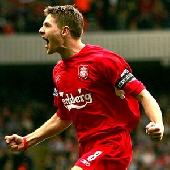 Liverpool boss

Steven Gerrard

has delivered an angry statement at the Reds' poor season so far and has said the Champions League success will not make up for a poor Premiership campaign.
"You don't get any prizes in football for finishing in second place, never mind fourth.

"I don't think that the fans would accept fourth as an accomplishment and for me it's not nearly good enough.

"We need to improve dramatically and even if we do finish fourth, it doesn't mean we have had a good season.

"The only way we can fulfil those ambitions is in the Champions League. And I am not going to pretend that even winning that trophy - and we are a long way away from it at the moment - will make up for the disappointment of the league campaign.

"I'm pretty gutted every time I look at the table and see the gap between us and Arsenal at the top, and even the gap between us and second and third."