Keane: come on Sunderland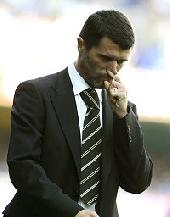 Sunderland boss

Roy Keane

has called on his Black Cats to show some 'drive and passion' if they have any intentions of staying in the Premiership next season.
"If you haven't got that, you have got nothing. If you want to be a top footballer, you have got to have drive and passion," he said.

"That has no doubt helped us in a lot of games when sometimes our quality has let us down.

"But there is no questioning the desire and determination of our players, and that is what we will need between now and the end of the season because, trust me, there will be some ups and downs.

"It is about how you handle the disappointments, and we have had a fair few this season, remember.

"But the players always react in a positive way - you look back and even the disappointment of the Everton game (a 7-1 away loss), a bad defeat like that, and then we bounced back the following week and won.

"The players constantly get up from the knockdowns they receive, and that's a great sign for me to have."